Featured Story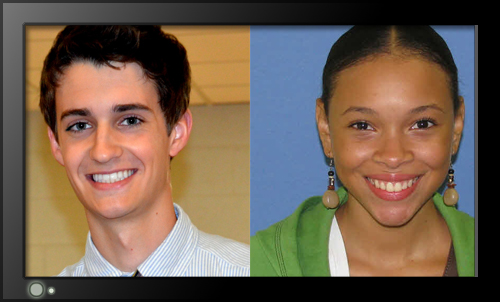 Mules on TV: Two students make their television debuts
Bryson Kemp '16 and Felisa Wiley '16 reach national audiences through television appearances this week.
Thursday, March 6, 2014 01:37 PM
Has Muhlenberg been on your mind more than normal this past week? That might be because Mules are infiltrating your television sets. Bryson Kemp '16 appeared on the Oscars last Sunday, March 2 on ABC; Felisa Wiley '16 is a contestant on "The Face," which premiered March 5 on the Oxygen network.
Kemp, a music major who aspires to write film scores, was one of six college students selected as a winner of "Team Oscar." He and the other students handed statuettes to celebrity presenters during the live telecast. In addition, they visited the Academy's Margaret Herrick Library to see its renowned collections, went on studio tours, and had meet and greets with filmmakers at Oscar Week events. Each winner also received a camera with which to document their experience and the behind-the-scenes stories will be posted on Oscar.com. Kemp shared his experience with the Express-Times while waiting to catch his flight home from Los Angeles.
Wiley, a media and communication and film studies double major, has been modeling since the age of 15, and is competing to become "The Face" of a national advertising campaign and to win a yearlong modeling contract. She took time out of her spring break at home in St. Thomas, U.S. Virgin Islands, to speak with The Morning Call.