The Muhlenberg College Institute of Public Opinion is a state of the art public opinion research center that conducts scientific based survey research projects of public policy and political issues throughout the Lehigh Valley and Commonwealth of Pennsylvania. As part of the college's mission of providing students with preparation for socially useful and self-fulfilling careers, the institute also undertakes projects in conjunction with community partners that examine contemporary issues relevant to the interests of the public and policy-makers.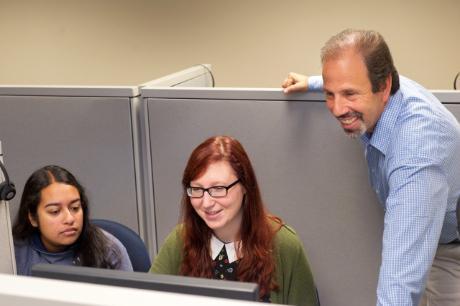 To support this initiative the College initiated a three-year development plan in 2001 that included the purchase of equipment, training of personnel, and nurturing of partnerships. To facilitate the highest quality public opinion research the institute is equipped with a fully operational computer aided telephone interviewing system, and data entry and analysis capabilities. The institute is also equipped with a web based interviewing system that allows for on-line interviewing capabilities. This component of the infrastructure will position the institute to meet future shifts in preferred research methodology caused by declining telephone response rates and increasing Internet saturation. The institute also maintains the capabilities to merge public opinion data with other forms of demographic and geographic data through employment of the college's recently established geographic information system (GIS). Finally the Institute maintains a fully developed focus group facility on campus.
In order to provide research that meets the high standards of the American Association of Public Opinion Research (AAPOR), all institute personnel are trained and follow practices of quality scientific research. Under the direction of institute director Christopher P. Borick (see attached biography), interviewers, lab supervisors, interns and data technicians receive training on proper survey research methods and procedures. The institute employs quality control mechanisms such as multiple call-backs, survey pre-testing, and data entry verification to assure high quality data and analysis are provided for each project.
Lastly, the institute has entered into long-standing partnerships with governmental, media and research organizations throughout the state and region. We provide media partners with both high quality public opinion data and expert analysis from the political science, economics and business professionals associated with the center. This value-added component will allow for more detailed use of survey findings in publications and productions. For government agencies the institute provides quality information to assist in the decision making process, as well as consultation and analysis services from the institute's staff.