Interested in Marine Biology?
Want to immerse yourself, literally and figuratively, in your studies?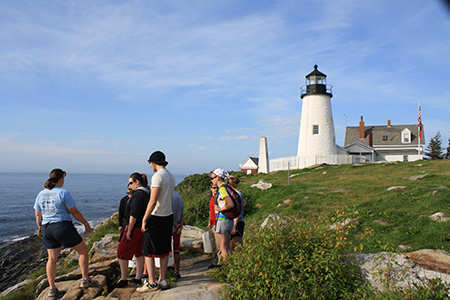 Then come join us for Biology 272: Field Marine Biology! This course will emphasize field work in natural marine habitats. Best of all, learn by doing, touching, feeling, being out in the field and working closely with your fellow students and instructor. This is an intense field course where you will spend your entire day (and a large chunk of your night) focused on one area of biology. Students in the course are amazed afterwards at how much they have learned in such a short time, how much their appreciation for marine organisms has grown, the tight bond they feel with their fellow classmates, and their understanding of the importance of team work!

The field component of the course is conducted at the Darling Marine Center in Walpole, Maine during two weeks in August, where the students will be involved in course-related activities all day. Each day we have field excursions, lectures, and laboratories. There is no better way to learn about and appreciate the marine organisms than to have the opportunity to see them alive in their environment, then bring them back to the laboratory to manipulate them and view them up-close.

We will study Maine's rich, diverse marine flora and fauna, emphasizing the ecology of the invertebrates and algae of the rocky intertidal zone, through field work, laboratory investigations, and lectures. Topics discussed include zonation, adaptations, competition, predator-prey interactions, phycology, life history strategies, larval ecology, scientific thinking and experimental design and analysis, conservation biology and some vertebrate ecology. Students will also gain experience in experimental design and will conduct some of their own short-term investigations.
The course work will require that you get wet while out working the tides, at least up to past your knee caps. . . information about appropriate clothing, etc. will be provided. Some shallow water snorkeling experiences will be encouraged, but not required. The food at Darling Marine Center is very good and the kitchen staff are excellent at accommodating food allergies and vegetarians.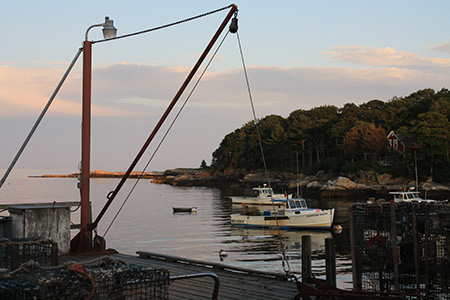 After the semester begins, there are a few meetings on campus in the early fall semester. The final project paper will be due and a final exam on lecture material will occur back on campus after the start of the academic year. Any course work done during the fall semester itself will be scheduled at a time that fits the students' schedules (likely on the weekend), so it should not conflict with any other scheduled fall courses. Thus this class is a fall semester course that is completed by fall break.
Students going abroad in the fall have been able to take the class in the past, through a special arrangement. However, any student in the course MUST be able to attend all days of the course-work in August at the marine laboratory. The ending date of the August component should allow students who are RAs/SAs/WAs for the fall to participate in the class if they want.
The course can fulfill an Area 3 requirement for Biology majors, an elective for Environmental Science majors, and one of the the Sustainability in Practice requirements in the Sustainability Studies minor. Prerequisites: Biology 150, Biology 151, and an enthusiasm for the marine realm.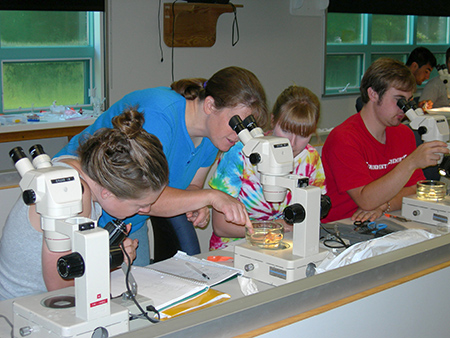 Because of the two weeks of work at the marine station, there is a course fee that covers room, board, and laboratory fees for the course. The fee per student in 2011 was estimated to be $1,300 in addition to fall enrollment tuition. Students also need to provide their own round trip transportation from home to Darling Marine Center.

If interested, contact Dr. Iyengar for more information. There is a short course application form that will be due near the end of January. Currently, the course is limited to 11 students because we need to fit in a 12-passenger van to get from site to site.

For more information (and pictures) of the lab itself, click here. If you would like to speak with Muhlenberg students who have taken the course, let me know and I can give you some names to contact.
Note: Whether you are SCUBA certified or not, there will be NO opportunities to SCUBA dive while engaged in this course. Unfortunately, SCUBA activities open up a legal liability that we cannot handle. There will be no required snorkeling, but there will be a few snorkeling opportunities available, and for those of you who have always wanted to try to snorkel but were nervous: this is a great opportunity to do so! Wetsuits and snorkel gear will be provided. You are welcome to bring your own gear, if you wish.
If you have any further questions, please feel free to contact Dr. Iyengar