Peter G. Saenger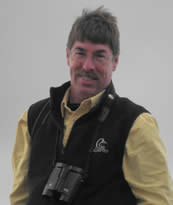 ‌
Acopian Center for Ornithology
Department of Biology
Muhlenberg College
2400 Chew Street
Allentown, Pa. 18104-5586
U.S.A.
Tel. 484-664-3508
Fax. 484-664-3509
Background:
Peter G. Saenger was raised in rural Berks County, Pennsylvania and was first attracted to and enjoyed studying birds during a second grade field trip to nearby Hawk Mountain Sanctuary. From then on his interests in birds continued to increase and were nurtured at a professional level when he was selected to work on a research project to study the birds of Armenia at Muhlenberg College in the 1990s. His bird expertise resulted in his current appointment as an endowed research ornithologist and collection manager in the bird museum within The Acopian Center for Ornithology, Department of Biology, Muhlenberg College. He has been the president of the Lehigh Valley Audubon Society for the past 16 years and currently serves as the membership chair for the Wilson Ornithological Society.
Unpacking Spring/Summer 2007
Talking with some of our visitors