Global Education: Worth the Investment
Raising the value of the Muhlenberg experience
Global Education at Muhlenberg College
Muhlenberg strives to make study abroad opportunities affordable and available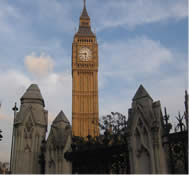 to all qualified students. In a world that is becoming increasingly interdependent, study abroad represents a significant means by which students may better prepare themselves to face challenges of the future. The College encourages students in all science, social science, arts and humanities majors to study overseas at quality institutions in Europe, Australia, Asia, Latin America and Africa.
Currently, nearly 50% of Muhlenberg's graduating classes take advantage of the opportunity to spend a semester abroad. In contrast, five years ago, a third went overseas. Our percentage has increased in spite of the fact that more of our students require financial aid to afford a college education.
Quality and Safety
The College supports a large number of approved study abroad programs for Muhlenberg student participation.
All our approved programs are continuously monitored to assure that our standards for academic quality and safety are met. Muhlenberg faculty and study abroad staff visit our sites on a regular basis to evaluate the quality of the courses and familiarize themselves with the programs, thereby making them better advisors. More importantly, in a post 9/11 world, our site visits enable us to continuously assess the safety of the housing and travel experiences our students are likely to encounter.
How are Global Education Fees Determined?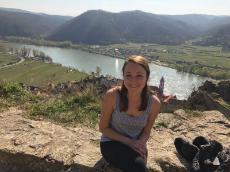 When students study on an approved program, they retain all their Muhlenberg and non-Muhlenberg scholarships and financial aid. In cases where there is a difference between our fee and the fee of the host institution, that difference helps us to make Muhlenberg financial aid available.
We also have administrative overhead costs in providing study abroad opportunities. These include covering the costs of pre-departure orientation and information, communication with students on matters such as Muhlenberg housing and registration, administration of the transfer credit process for courses students take at another institution, and reentry activities and events.
Other costly administrative functions include substantial college-wide administrative and academic tasks associated with study abroad, such as the process by which abroad courses are validated for transfer credit, which requires regular institutional review of abroad courses and faculty.
Study abroad is an academic program no different from other curricular programs offered by the College. Some academic programs (the sciences or theatre arts) cost more to offer than other programs (literature or economics). Students, regardless of the program they pursue, are charged the same tuition and fees. Some affiliated education abroad programs are more costly than others. All education abroad students are, however, charged the same Muhlenberg tuition fees.
The total cost of any student's education is not covered by the tuition and other fees we collect. Our endowment and contributions by College friends and alumni are important to fill the gap. However, the College budget is based on the expectation that all students, including those with financial aid, will make Muhlenberg tuition payments for eight semesters. This assumption also leads to the student paying the Muhlenberg College room and board rate regardless of the rate of the host institution, which could be higher or lower.
Program cost is, however, a factor that must also be taken into account in the selection of approved programs. The number of students that the College can accept for education abroad programs is governed by fiscal prudence to maintain a healthy, balanced college budget. Program costs are carefully monitored in order to accommodate a maximum number of participating students without jeopardizing the College's financial strength.
There is no study abroad fee structure policy that characterizes all colleges and universities. The policy adopted by Muhlenberg is, however, often encountered, especially by private liberal arts institutions.
"In the increasingly competitive global marketplace, language and cultural skills can help a Muhlenberg graduate stand out to prospective employers."
- Dr. Donna Kish-Goodling
Dean-Office of Global Education
A Message from the Office of Global Education
In November 2005, the Commission on Abraham Lincoln Global Education Fellowship program released its final report to the President and Congress. It outlined the goals of study abroad to increase participation in quality programs in order to create a more globally informed American citizenry. It recommended that study abroad should be a cornerstone of undergraduate education, emphasizing the importance of diversification of destinations, students, and fields of study.
At Muhlenberg College, we are committed to providing as many quality global educational experiences as possible. Our Muhlenberg students across the globe are not only ambassadors of our fine institutional values in the liberal arts, they will also be America's future leaders in business, the arts, education, medicine, government, science and our local communities.
To make that vision a reality, we have adopted a fee structure that enables us to finance the financial aid and substantial college-wide administrative and academic tasks associated with study abroad. The College does not accept any money from study abroad program providers or host institutions in exchange for student enrollments in Muhlenberg approved programs. We also do not use any one program provider exclusively. Moreover, we are institutional members of various international education organizations that provide guidance for transparency in study abroad arrangements and best practices in the field. We are members of the Forum on Global Education (www.forumae.org), the Institute of International Education (www.iie.org), and NAFSA (www.nafsa.org).
My staff and I are here to help all Muhlenberg students have equal access to the life-changing and career-defining opportunities of living and learning outside our borders.
- Dr. Donna Kish-Goodling,
Associate Dean Office of Global Education
Why Global Education
Prospective employers and graduate schools value study abroad experiences.
Greater multicultural and global awareness promotes conflict resolution.
Our national security depends on the foreign language skills of members of our government agencies.
Learn to approach situations involving people from other cultures with greater levels of comfort, satisfaction, confidence and sensitivity.
Understand the value of cultural diversity.
Learn to adapt to varying intercultural communication and learning styles.
Develop global perspectives by gaining insights into international trends, issues and responsibilities.
Learn about America through exposure to international media and viewpoints.
Learn a different perspective about your major or minor.
Learn how to travel and how to take informed risks in unfamiliar situations.