Phi Sigma Tau
The International Honor Society in Philosophy
Pennsylvania Alpha Chapter
Muhlenberg College
Allentown, PA
History
Phi Sigma Tau was founded in 1930 at Muhlenberg College as Alpha Kappa Alpha. Incorporated as a member of the Association of College Honor Societies in October, 1955, Phi Sigma Tau now has over 140 chapters at colleges and universities throughout the United States and Canada. Because of its historic role in the founding the original society, Muhlenberg College is designated as the Alpha chapter in Pennsylvania.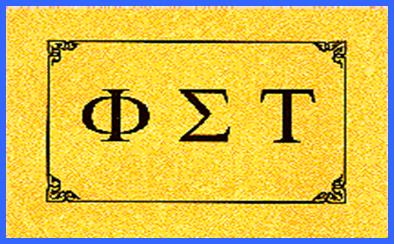 Purposes
To serve as a means of awarding distinction to students who have demonstrated personal interest in and who have achieved high scholarship in philosophy. To promote student interest in research and advanced study in philosophy. To provide opportunities for publication of student papers of high merit. To encourage professional collegiality among those who display a marked ability in philosophy. To spread and deepen interest in philosophy among the general collegiate public. (Adapted from the ACHSincorporation text.)
Publications
Dialogue, The Journal of Phi Sigma Tau, is published in October and April each year. The journal is devoted to the work of graduate and undergraduate students and has a circulation of over two thousand.
Phi Sigma Tau Newsletter is published three times annually and provides for communication among chapters and members.
Meanings, Symbols, Insignia, Colors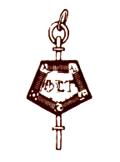 'Phi Sigma Tau' stands for "Of Those Who Love Wisdom."
The Society's emblem is a pentagon. Each of the five angles displays a symbol that represents one of the great "streams of world thought": Chinese, Indian, Islamic, Hebrew, and Greek.
The Seal of the Society is the reverse side of the Athenian silver tetradrachma, bearing an owl, olive spray, and small crescent. The margin of the Seal bears the legend Phi Sigma Tau, 1930.
The colors of The Muhlenberg chapter are "madonna blue" and white, symbolizing purity and integrity – virtues of the true philosopher.
The White Rose is our flower, symbolizing the beauty of Philosophy, "fairest of all disciplines."
Membership
Membership in the Muhlenberg chapter is based on invitation by the Department faculty, usually during the Senior year. Students eligible for membership are those who have met the Department's highest standards of excellence. A one-time fee is paid to the National Society for membership documents and official registration. Participation in the Muhlenberg Department's initiation ceremony and attendance at the dinner immediately following the ceremony are optional. Our ceremony incorporates elements of the original Alpha Kappa Alpha initiation and is, thus, unique.