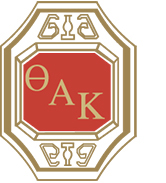 Theta Alpha Kappa (TAK) is the nationally recognized academic honor society for students who excel in the field of Religion Studies. Muhlenberg's Alpha Zeta Chi chapter of TAK was established in 2004. We induct new members each spring.
TAK provides an excellent opportunity for majors, minors, and other interested students to get to know one another and learn from each other about student research, graduate programs, and study abroad and internship opportunities. The Society also supports a program of scholarship awards, fellowships, and an annual publication of excellent TAK members' research. TAK is affiliated with the American Academy of Religion and the Association of College Honor Societies.
Membership eligibility includes, but is not limited to, the following criteria. In order to be eligible for TAK you must:
Have completed 3 semesters of college work (which means that one is eligible for TAK in the spring of the sophomore year)
Have completed 4 courses in religion studies with a total 3.5 (B+) average
Have an overall GPA in all courses of 3.0
For more information about additional requirements, please review the TAK Constitution.
(Please note that you do NOT need to be a major or minor in religion studies in order to be a member of TAK)
The faculty representative in charge of TAK at Muhlenberg College is Dr. Takahashi:
kammietakahashi@muhlenberg.edu
To learn more about TAK, go to: thetaalphakappa.org