Championing Environmental Public Policy Reform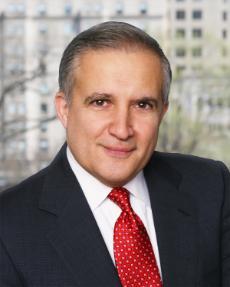 Karl Bourdeau '75 believed he was destined to be a doctor. Majoring in the natural sciences as an undergraduate, then admitted into medical school, he didn't realize until May of his senior year that he would pivot and become a lawyer. He was afforded that ninth-inning, career-trajectory move because he was easily able to intersect disciplines at Muhlenberg and devote his studies to political science and public policy. After early-decision acceptance to Harvard, Karl earned his juris doctorate in 1978 and went on to serve more than 40 years in an illustrious career in the Washington, D.C., office of Beveridge & Diamond, an internationally recognized environmental law firm. He retired in 2019.
"My Muhlenberg education — with respect to both natural science on the one hand and the very different disciplines of political science and public policy on the other — certainly served me well in my career as an environmental lawyer, a profession which really calls upon a keen understanding of both fields," said Karl, who at Muhlenberg graduated valedictorian, lettered in soccer and track, held leadership positions within Student Council and Phi Kappa Tau, was a Rhodes Scholar finalist, and earned the Pre-Med Society Award for having the highest overall GPA - a 4.0. For his stellar achievements, he received Phi Kappa Tau's Shideler Award as the most outstanding graduating senior in the nation and was inducted into the academic leadership honor societies Omicron Delta Kappa and Phi Beta Kappa.
"My undergraduate education inculcated within me the values inherent in a quality liberal arts education - most notably, the ability to think independently, objectively, critically and broadly regarding matters at issue, and not be dominated or unduly prejudiced by any preconceived notions when dealing with others with different viewpoints," said Karl, who added that learning those traits provided valuable lessons in life. "My natural sciences major also trained me in scientific methodology and analysis and taught me to examine rigorously issues germane to environmental policy making."
Active in advocating environmental policy positions before the U.S. Environmental Protection Agency and on Capitol Hill, Karl was engaged principally in a wide-ranging litigation, regulatory, transactional and legislative practice involving hazardous substance and hazardous waste issues. He also represented clients on a variety of international environmental, chemical risk assessment, and federal Information Quality Act issues. His clients included diverse private sector entities in various segments of the regulated community. During his lengthy tenure at Beveridge & Diamond, Karl's practice evolved with the evolution of modern environmental law from its infancy in the late 1970s to its current manifestations. In the process, he helped oversee the expansion of his firm from 12 attorneys when he joined to 120 lawyers when he retired, making it one of the largest and most respected private environmental law practices in the world.
Grateful for the four-year, full-tuition Trustee Scholarship that facilitated his collegiate education, Karl has donated both time and treasure to his alma mater advising pre-law students on career choices and annually supporting all students as a member of several giving societies.
Bestowed with top industry and peer recognition awards in the environmental law arena, he was pleased to learn that, upon his retirement, his law firm and other colleagues established a fund in his honor to support Muhlenberg's sustainability studies program.
"It was just such a thoughtful thing for them to do given my career and the fact that Muhlenberg literally had just initiated its new sustainability studies major," said Karl, who added to the fund.
He remains appreciative of the quality education he received at Muhlenberg and noted that he is delighted that the College has successfully expanded its curriculum and resources to further its critical, secondary education mission.
Another marker of the College's growth that he is impressed with is the new 20,000-square-foot, environmentally sustainable Parkway Boulevard Building — one of only 20 buildings worldwide to pursue CORE certification. The building is slated to open in Fall 2022.
"The administration's commitment to environmental sustainability with this new facility is a testament to the vision of the College's leadership," said Karl. "The LEED and CORE industry standards the building will meet represent the 'best in class' in environmentally and energy conscious building design, construction, operation and maintenance. I congratulate Muhlenberg on this exceptional foresight and contribution to our environment."