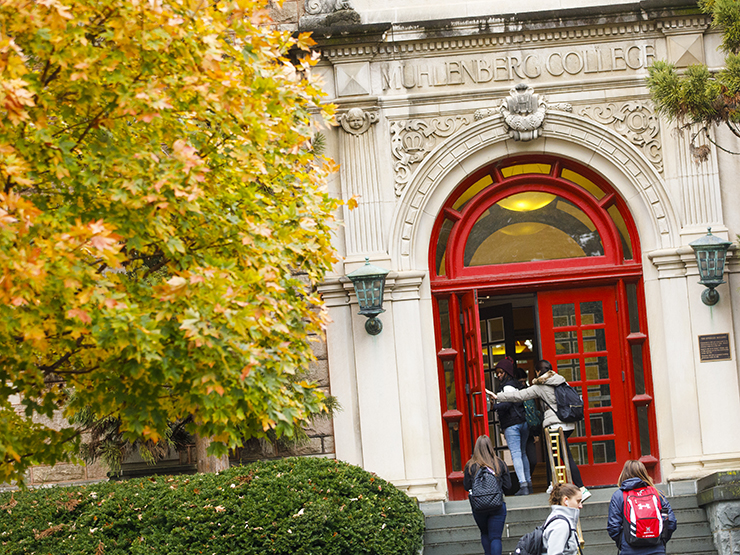 Applying as an undergraduate student? Muhlenberg proudly uses The Common Application. Submit your application to Muhlenberg today.
---
We consider every application carefully, and we read every application within a "whole person" context. Every application is important, because every member of our community contributes to our special culture of diversity, curiosity and connectedness.
Admission Requirements
As we assess your application, we'll review your scholastic performance and we'll look at your personal interests and activities. There is no precise admissions "formula;" we look at a range of factors. The following credentials are of primary importance:
Secondary school record
You should be on track to complete a secondary school college preparatory program of at least 16 Carnegie units. These units should include four of English, two (preferably three) of one foreign language, three of mathematics, two (preferably three) of science, two of history and major academic electives. Exceptions to these requirements will be considered on an individual basis in cases of documented learning disability, home schooling or other exceptional situations.
We recognize and encourage secondary school enrollment in accelerated and advanced placement courses.
Standardized tests
The SAT and ACT are optional in most cases. Be sure to use our checklists to confirm your specific testing requirements. Note that if you choose not to submit the SAT or ACT, you are required to complete a Test-Optional Form. While standardized test scores are optional for admission, students must submit either SAT or ACT scores to be considered for the Henry Melchior Muhlenberg Scholarships, Honors Programs and Academic Partnerships. Non-U.S. citizens for whom English is not the first language should submit results of the Test of English as a Foreign Language (TOEFL) or International English Language Testing System (IELTS).
Personal qualities
While the strength of an applicant's academic preparation is of primary consideration, the Admission Committee is also very interested in each applicant as an individual. Evidence of an applicant's personal qualities is considered through the breadth and depth of extracurricular pursuits, the personal essay and the recommendations from the student's school advisor and two teachers of major academic classes. A personal interview with a member of the Admission staff is also helpful in this regard.