Languages, Literatures, & Cultures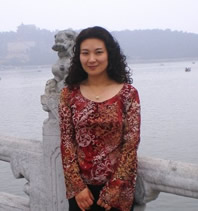 Nancy Collings

Part-Time Lecturer in Chinese
Ettinger 104D
Office: 484-664-3348
Fax: 484-664-3722
Background
B.A. Chongqing Educational Institute
M.A. DeSales University
Nancy Collings has been teaching Elementary Chinese at Muhlenberg since 2011. She was born and raised in China and received her B.A. in English in Education from the Chongqing Educational Institute. She taught English for 5 years at a secondary school in Chongqing. After moving to the United States, she went to DeSales University and received her Masters in Computers in Education.

She began teaching Chinese at Northampton Community College in Bethlehem, PA. and continues to teach there. In recognition of her work at NCC, she was given an Excellent Overseas Chinese Teaching Award from the China State Council Overseas Committee in New York.

In addition to teaching Chinese, she interpreted for the Lehigh and Northampton County Courts and the Federal Court in Wilkes-Barre, PA. She also interprets and translates for many of the local K-12 school districts.