A Reformation of Style: Religion & Printmaking, 1500 - 1650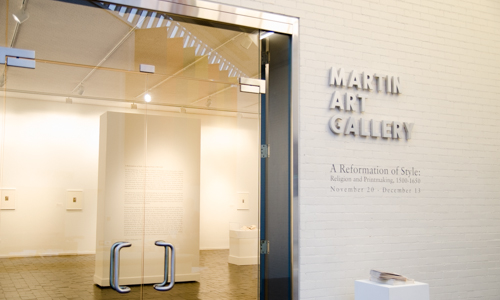 Caitlin DiMartino '14, recently mined the depths of the College's Florence Foerderer Tonner Collection to select 23 prints and one book made by artists whose work spans the pre-and post-Reformation period in Europe.
Thursday, November 21, 2013 04:24 PM
The exhibit will be hosted in Muhlenberg's Martin Art Gallery from November 20 – December 13. The exhibit features a number of well-known artists, including Albrecht Dürer and Rembrandt van Rijn, as well as less prominent artists, such as Lucas Cranach the Elder, Hans Sebald Beham and Urs Graf.
As a focal point, the exhibit features works from artists during the Protestant Reformation and the Catholic Counter Reformation. All of the works feature a religious subtext, and all of the selected pieces serve as a reflection of the contemporary religious climate that influenced the daily lives of the artists.
Caitlin was able to search through Muhlenberg College's permanent collection to select pieces for the exhibit. This was her first opportunity to curate a show for the Martin Art Gallery, and she hopes the opportunity to visit the exhibit will encourage gallery viewers to explore Muhlenberg's other collected artwork.
The Gallery is open to the public from Tuesday - Saturday from 12:00 p.m. – 8:00 p.m. The Galleria Lobby, an adjacent exhibition space, is accessible daily from 9:00 a.m. – 11:00 p.m. For more information regarding Martin Art Gallery programming, please contact Kathryn Burke at 484-664-3467.