Center for Ethics Talk Tackles Censorship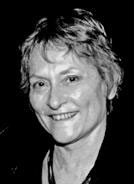 Joan E. Bertin, Executive Director of the National Coalition Against Censorship, delivers the first lecture in the series Sex, Ethics, and Pleasure Politics.
Tuesday, October 22, 2013 10:57 AM
The Muhlenberg College Center for Ethics and the Woodrow Wilson Visiting Fellow Program are pleased to co-sponsor "Of Sex, Sin and Other Taboos: A Short Course in Censorship from Ancient Times to the Foreseeable Future," a talk with Joan E. Bertin on Wednesday, October 23 at 7:00 p.m. in Miller Forum, Moyer Hall. This event is free and open to the public, and is part of the year-long series, Sex, Ethics, and Pleasure Politics.
Since 1997, Joan E. Bertin has been Executive Director of the National Coalition Against Censorship, a group of more than 50 national non-profit organizations dedicated to promoting freedom of speech and expression. She addresses the history of the First Amendment, censorship, restrictions on sexually explicit speech, child pornography, political speech, government secrecy, broadcast decency, and censorship of science and sex education. Currently a faculty member at Columbia University, she also held the Joanne Woodward Chair in Public Policy at Sarah Lawrence College. She frequently speaks and writes on legal and policy issues and is the author of more than 30 chapters and articles in professional books and journals.
Bertin will be on campus as a part of the Woodrow Wilson Visiting Fellow program. Woodrow Wilson Visiting Fellows connect a liberal education with the world beyond the campus by bringing thoughtful and successful practitioners to colleges for a week of discussions with students and faculty. Fellows are scheduled for formal presentations in classrooms, panels, and public platforms, and informal encounters at meals, in student centers, clubs, dormitories, career counseling and individual sessions. The week-long visit allows Fellows to explicate their ideas fully and often leads to continuing ties.
The Woodrow Wilson National Fellowship Foundation has developed and conducted programs in higher education since 1945. More than 200 colleges have participated in the Visiting Fellows program since 1973. Dr. Lynda Yankaskas, assistant professor of history, is the Chair of the Woodrow Wilson Visiting Fellow Committee.
Through public talks and discussions, Sex, Ethics, and Pleasure Politics will build an ethical conversation centered on interpersonal sexual behavior as well as the political, scientific, religious, aesthetic, and legal forces that shape the permissibility and impermissibility of sexual acts. This programming theme will explore how culture, race, gender, class, technology, and language can simultaneously both constrain and create greater opportunities for sexual acts, interpersonal intimacy, and pleasure-seeking.
For more information, visit: http://www.muhlenberg.edu/main/aboutus/cfe/current_programs/index.html.