News Archive: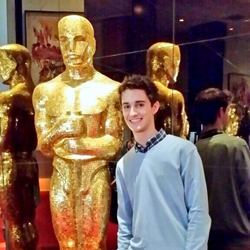 Bryson Kemp '16 Looks Back on a Week in Hollywood
The sophomore music major reflects on his time in Hollywood as one of the winners of Team Oscar.
By: Leah Lewin '14 Tuesday, April 22, 2014 01:05 PM
Bryson Kemp's spring break culminated in one of the most memorable days of his life. As actor Channing Tatum announced his name to 43 million viewers, the sophomore stood on stage at the Dolby Theatre in Hollywood, smiling in front of hundreds of his professional idols. Bryson was one of six students invited to attend the 86th Academy Awards ceremony after spending a week learning about the filmmaking industry in Hollywood.
Bryson, a music major at Muhlenberg, was one of the thousands of college students who submitted a YouTube video as his official application for Team Oscar, a program formed by the Academy that allows six college students access to a behind-the-scenes week in Hollywood and an invitation to attend the Academy Awards. Bryson's mother encouraged him to apply after learning of the opportunity during Channing Tatum's appearance on The Ellen DeGeneres Show.
Bryson and his three older sisters have all played musical instruments from a young age. "I guess I've always had a passion for music," says Bryson. "Piano wasn't the first instrument I played, but it's my favorite." Bryson's parents helped instilled a love for cinema in their children, and his desire to combine two passions -- music and movies -- into one - scoring films - was born. In his video submission, "John Williams is my Idol," Bryson explains that scoring movies makes it possible for them to come alive.
"Music makes the movie, and I'm going to make the music," he said, and two months later, he was on a plane to Hollywood.
Before the Academy Award ceremonies, Bryson and his fellow contestant winners had a week full of studio tours and meet-and-greets with filmmakers. The week, he explains, was a whirlwind of advice and inspiration. "Everyone was so passionate about what they do," Bryson says. "It really makes you want to go into the movie industry." Bryson recalls one particularly inspirational moment with director Gary Shore, who told him entering the film industry "is a marathon, not a sprint." Bryson cherished the time he spent with his fellow winners. "They're really talented," he reflected. "We're hoping to have a reunion sometime, and it would be awesome to collaborate with them in the future."
One of the most memorable experiences for Bryson during his week in Hollywood was attending the inaugural Oscar Concert. "All of the composers who were nominated got to orchestrate ten minutes of their song before they were interviewed on stage" Bryson explained. "It was just a crazy experience; I feel so lucky."
After two days of twelve-hour rehearsals, the big day finally arrived. Bryson and his new friends were excited about handing the eight-pound statuettes to the celebrity presenters during the awards show. Bryson was in charge of the statuettes for the categories of Best Documentary, Best Animated Feature Film, Sound Editing and Best Actress. The experience left him feeling star struck with many of the individuals he met, including Angelina Jolie.
So, what was Bryson's secret for getting chosen as a member of Team Oscar? "Show a lot of passion in your one-minute video," Bryson shares. "They want to see a video that stands out." Hopefully, Bryson will be on the same stage again in the future; perhaps at that time, the presenters will be handing awards to him.