News Archive: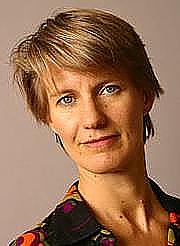 Caroll Bogert to Speak on Human Rights
Deputy Executive Director of Human Rights Watch Visits Campus Courtesy of the Center for Ethics and the Woodrow Wilson Visiting Scholar Program
Monday, October 20, 2014 02:23 PM
Caroll Bogert, deputy executive director for external relations of Human Rights Watch, will give a talk, "Can the U.S. Lead on Human Rights in the 21st Century?"on Monday, October 27, 2014 at 7:30 p.m. in Miller Forum, Moyer Hall. This event, co-sponsored by the Center for Ethics and the Woodrow Wilson Visiting Scholar program, is free and open to the public.
Bogert has worked at Human Rights Watch since 1998. She oversees the organization's external relations and works with the executive director on advocacy and fundraising. Bogert previously served as Human Rights Watch's communications director, publicizing the organization's work and drawing attention to human rights issues in more than 90 countries worldwide. Before joining Human Rights Watch, she spent more than a decade in international news reporting for Newsweek magazine, beginning as a stringer in China, then moving to the Southeast Asia bureau as correspondent, becoming bureau chief in Moscow, and finally working as an editor and international correspondent in the magazine's New York office. Bogert holds a master's degree in East Asian Studies and a bachelor's magna cum laude from Harvard University.
This event is part of the year-long Center for Ethics series, Civility and Disobedience, under the direction of Brian Mello, associate professor of political science, and Christine Sistare, professor of philosophy.
Each year, the Center for Ethics sponsors an intensive series designed to encourage discussion and reflection on a timely, pertinent topic. Center for Ethics programs are free and open to all members of the Muhlenberg campus and the local community.
Bogert's visit to campus is a part of the Woodrow Wilson Visiting Fellow program. Woodrow Wilson Visiting Fellows connect a liberal education with the world beyond the campus by bringing thoughtful and successful practitioners to colleges for a week of discussions with students and faculty. Fellows are scheduled for formal presentations in classrooms, panels, and public platforms, and informal encounters at meals, in student centers, clubs, dormitories, career counseling and individual sessions. The week-long visit allows Fellows to explicate their ideas fully and often leads to continuing ties.
The Woodrow Wilson National Fellowship Foundation has developed and conducted programs in higher education since 1945. More than 200 colleges have participated in the Visiting Fellows program since 1973. Dr. Lynda Yankaskas, assistant professor of history, is the chair of the Woodrow Wilson Visiting Fellow Committee