News Archive:
Frontiers in Neuroscience Explores Embodied States, Cognition
Students present contemporary neuroscience research in a lecture performance style.
By: Leah Lewin '14 Thursday, April 24, 2014 09:43 AM
The Frontiers in Neuroscience series, as part of the States of Consciousness course taught by Stanley Road Endowed Chair Dr. Jeremy Teissere, invites students to present contemporary research topics in the field of neuroscience. The student presentations are designed after the popular TED Talk (Technology, Entertainment, and Design) series and are structured in a lecture performance style. The talks will be held Friday, April 25, and Friday, May 2 from 6:00 p.m. to 9:00 p.m. in the Recital Hall of the Baker Center for the Arts.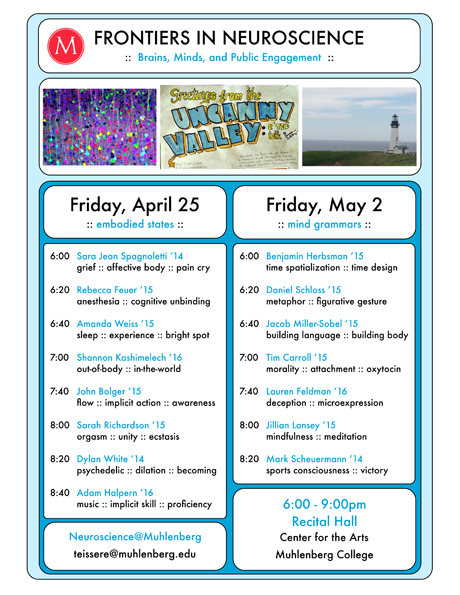 ‌‌
The series serves as an opportunity for students to critically explore topics within neuroscience that can appeal to a non-scientific audience. On April 25, the presentations focus on embodied states, which includes feelings, sleep, psychosis, and out-of-body experiences. The May 2nd talks focus on cognitive themes that examine ways of thinking and mapping the mind in different ways. Each individual talk is allotted a specific time slot, and students and community members are encouraged to visit any or all talks that interests them.
"I think giving the students this time and space and inviting them to think critically is important," says Dr. Jeremy Teissere. "There is a lot that's unknown. And even for the things we say we can know, we should still think very critically." States of Consciousness is one of the many courses offered in the neuroscience program, the sixth largest and fastest growing major at Muhlenberg College.
Frontiers in Neuroscience is free and open to the public. For more information, contact neuroscience@muhlenberg.edu or visit the Frontiers in Neuroscience course page.