News Archive:
Martin Art Gallery hosts Lehigh Art Alliance 79th Juried Exhibition
The Martin Art Gallery in the Baker Center for the Arts at Muhlenberg College proudly hosts the Lehigh Art Alliance 79th Anniversary Exhibition, June 8 through August 2.
Thursday, May 22, 2014 09:19 AM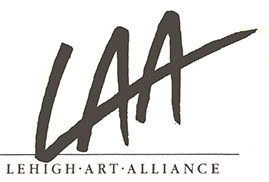 The Alliance, founded in 1935 by Professor Garth Howland of Lehigh University, has continued throughout its history to provide quality exhibition opportunities for both artists and the viewing public. The Martin Art Gallery is honored to be one of the venues in which the Alliance frequently exhibits.
The juried exhibition will feature painting and other 2-dimensional media as well as sculpture. A reception will be held Sunday, June 8, 2:00 – 4:00 p.m. Awards will be announced at 3:00 p.m.
All Martin Art Gallery events are open to the public and free of charge. Gallery hours: Tuesdays through Saturdays, noon – 8:00 p.m. Additional Sunday hours: Noon – 4 PM: June 15, 22, 29/July 13, 20 and 27. Closed: July 4 - 7