Martin Art Gallery
David Ambrose: Conversations with Yesterday
September 16 - November 18

In Hot Haste, 2017, 25" x 40", watercolor and gouache on pierced paper
David Ambrose's exhibition Conversations with Yesterday has been a project forty years in the making. This show, however, is not a retrospective. Each piece, produced over the past two years, is the result of lessons learned throughout his nearly four decade career, which began at Muhlenberg College in the late 70's as a student.
Muhlenberg is excited to highlight this distinguished alumnus with an exhibition of new works in the Martin Art Gallery. Employing gouache, oil, pastel and watercolor, Ambrose stipples paint, pierces paper, and scrapes and reapplies pigment to systematically create unexpected color juxtapositions and vibrant fields of intricate layers. Using a near obsessive process, works remind us that persistence pays off. Iterative manipulation results in exquisitely detailed surfaces. Each piece seemly captures the ephemeral nature of concentration. The product of a long journey looking both outward and inward, this collection of works manifest Ambrose's unique vision.
The exhibition is accompanied by a catalog and essay by Stephen Maine, and will include a public artist talk in the Empie Recital Hall, in Baker Center for the Arts on November 1, from 5 - 6pm.
---
Gelah Penn: High Tide
October 8 – January 10, 2018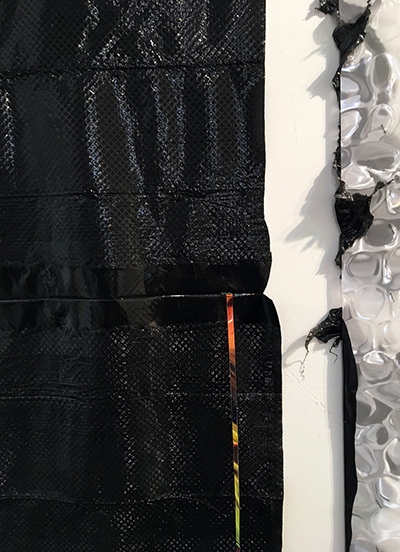 Detail from studio.
Reception 10.18 5-6:30pm
Artist Talk 12.6 5–6pm in the Recital Hall
Gelah Penn's High Tide is a site-responsive installation in which the artist deploys a variety of synthetic materials to "invade, interpret and confound" the architectural parameters of the Philip Johnson-designed Baker Center for the Arts at Muhlenberg College. Penn will transform the skybridge using plastic garbage bags, foam rubber, Mylar, acrylic paint, mosquito netting, polyester, foiled thermal insulation and other materials to expand the language of drawing to this unique three-dimensional space.
Gelah Penn's recent solo and group exhibitions include the Amelie A. Wallace Gallery/SUNY Old Westbury (Old Westbury, NY); National Academy Museum, Lori Bookstein Fine Art, Foley Gallery, Equity Gallery (New York, NY); San Francisco Art Institute (San Francisco, CA); Weatherspoon Art Museum (Greensboro, NC); Bibliotheque Municipale Louis Nucera (Nice, France); and Carl Berg Projects (Los Angeles, CA). Her work is in the collections of the Weatherspoon Art Museum (Greensboro, NC), Columbus Museum (Columbus, GA), Brooklyn Museum Library (Brooklyn, NY) and Gund Library/Cleveland Institute of Art (Cleveland, OH). Reviews have been published in Art in America, The New York Times, artcritical.com, The Brooklyn Rail and a feature in Sculpture magazine. Penn has received a Tree of Life Individual Artist Grant and fellowships from the Marie Walsh Sharpe Foundation, Yaddo and the MacDowell Colony. Her work will be included in "Materiality: The Matter of Matter" at the Center for Maine Contemporary Art (Rockland, ME) in November 2017.
---
Creative Research at Muhlenberg College
November 29 – January 10, 2018


Creative Research at Muhlenberg College is an exhibition highlighting the vitality of the creative community at Muhlenberg College. Running through January 10, 2018, this galleria exhibition features work by faculty and staff from various departments and was curated by Margo Hobbs, Tim Clarke, and Paul M. Nicholson. Participants artists include Ray Barnes, Aggie Bazaz, Mary Brown, Greta Brubaker, Les Fletcher, Carol Heft, Dawn Kramlich, Roger Loos, Sean Miller, Robert Mahar, Paul McEwan, Casey James Miller, Ruth Morris, Paul M. Nicholson, Karen Normann, Emily Orzech, Lydia Panas, Fred Wright Jones and Pearl M. Rosenberg.
---
William Hudders: Three views
September 1 - January 15, 2018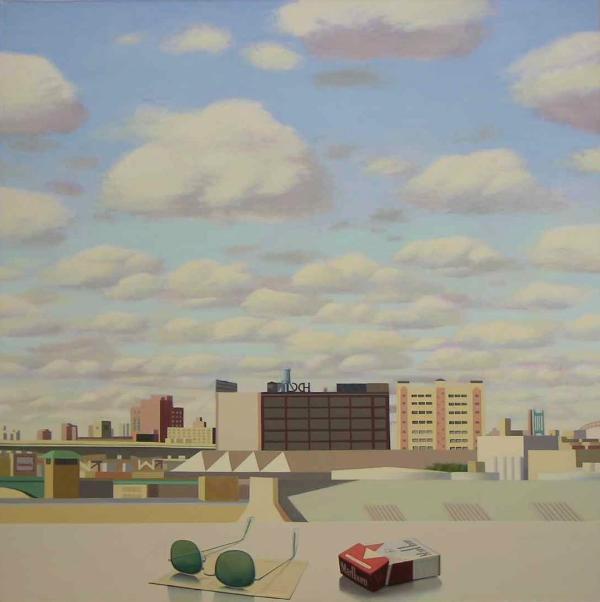 Postcard, 2004
Martin Art Gallery presents Three views, a collection of works by Easton-based artist William Hudders. Three views will be on display in the Baker Center for the Arts Galleria September through January 15, 2018. A reception for the artist will be held on Wednesday, October 18, from 5 – 6:30pm.
Each still life was selected from a larger body of work, and represents but a portion of Hudders' artistic output over the past decade-plus of work, split between New York and Eastern Pennsylvania. Completed in one or another of his studio settings, much of his work focuses on interiors - looking out - with varying degrees of obstruction. Employing a warm, albeit muted, palette, tableaus of tools and other objects are treated with an almost mawkish sentimentality. Keen attention to composition, perspective, and especially light helps Hudders to imbue common household items with an almost introspective quality.
William Hudders' recent solo and group exhibitions include the ReFind Gallery (Allentown, PA), Schmidtberger Fine Art (Frenchtown, NJ), Beauregard Fine Art (Rumson, NJ), The Baum School (Allentown, PA), the Tatistcheff Gallery (New York, NY), and the Alhum Gallery (Easton, PA). Hudders is a grant recipient of the Adolph & Esther Gottlieb Foundation, the Franz and Virginia Bader Fund, and the Pollock-Krasner Foundation. He has received a Yaddo, Saratoga Springs, NY Esteban Vicente Honorary Residency and a fully funded Vermont Studio Center Fellowship. His paintings have been reproduced in the films It's Kind of a Funny Story and Bewitched. Hudders has been favorably reviewed in the New York Times and the New York Observer.
Reception with the Artist October 18, 2017, 5 - 6:30pm
---
Ongoing Events and Exhibitions:
Roger Loos: Stone ‌Koans
November 2016 – November 2017
An exhibition of stone works by Roger Loos. Four works remain on display in the garden walk (between Trexler library and Baker Center for the Arts) for one year. Exhibition runs through November 2017.
---
Gods Eyes by Jen Huh will remain on extended loan and is on view in the Baker Center for the Arts Galleria through the end of 2017. Jen Huh is showing five of her God's eyes sculptures as an overhead installation adjacent to the pitched glass atrium ceiling.
---
The Martin Art Gallery is open Tuesday - Saturday 12 - 8pm, and The Martin Art Gallery's Galleria Space is open Monday - Sunday, 9:00am - 11:00pm*. All of our exhibitions and programming are free and open to the public. For further information, please visit http://www.muhlenberg.edu/main/aboutus/gallery, or call us at 484 664 3467
Artists may submit an exhibition packet or proposal for consideration to the gallery. Packets should include contact information and web portfolio link. Our gallery mailing address is: Martin Art Gallery, Muhlenberg College, 2400 Chew St., Allentown, PA 18104. Proposals will be accepted on an ongoing/rolling basis, and prospective artists will be contacted by the gallery. Please do not submit original art work as the gallery cannot be responsible for caring for or returning unsolicited submissions. Promotional materials submitted for consideration will not be returned.


All art images are the property of Martin Art Gallery, Muhlenberg College, Allentown, Pennsylvania. Any reproduction or distribution of this material without the expressed, written consent of the Martin Art Gallery is prohibited and a violation of federal law. All rights reserved.