News Archive: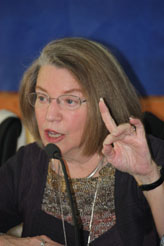 Nancy Fraser to Deliver Final Center for Ethics Lecture of the Semester
Nancy Fraser, Henry A. and Louise Loeb Professor of Political and Social Science and Department Chair at The New School, will give a talk, "Can Society Be Commodities All the Way Down?" on Thursday, November 13, 2014 at 7:00 pm in Miller Forum, Moyer Hall.
Friday, November 7, 2014 02:14 PM
This event, co-sponsored by the Women's and Gender Studies program and the Center for Ethics, is free and open to the public.
Fraser is a critical theorist who studies justice and feminism. She is the author of Fortunes of Feminism: From State-Managed Capitalism to Neoliberal Crisis.
This event is part of the year-long Center for Ethics series, Civility and Disobedience, under the direction of Brian Mello, associate professor of political science, and Christine Sistare, professor of philosophy.
Each year, the Center for Ethics sponsors an intensive series designed to encourage discussion and reflection on a timely, pertinent topic. Center for Ethics programs are free and open to all members of the Muhlenberg campus and the local community.