Artist and curator Vicki Meek to deliver Black History Month keynote speech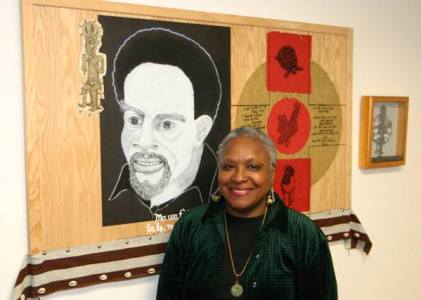 "BlackPower/BlackArt: An Aesthetic Revolution" explores art for social change
Tuesday, February 17, 2015 09:53 AM
Artist and curator Vicki Meek will deliver Muhlenberg College's Black History Month keynote speech, "BlackPower/BlackArt: An Aesthetic Revolution," on Tuesday, February 24 at 7:00 p.m. in Miller Forum, Moyer Hall. This event is free and open to the public.
Meek will discuss the ideals of the Harlem Renaissance that would later be more definitively defined during the rise of the Black Power Political Movement by artists in Chicago, New York and Los Angeles. She will introduce the introduce the audience to AfriCobra (Chicago), Spiral (New York) and Art West Associated (Los Angeles) and discuss how these artist-run organizations incorporated the tenets of the Black Power Movement into their philosophical framework, starting what would later become known as art for social change.
A Philadelphia native, Meek is a nationally recognized artist who has exhibited widely. She received her bachelor of fine arts from Tyler School of Fine Arts in Elkins Park, Pa., and her master of fine arts from the University of Wisconsin in Madison, Wis. In addition to her training in fine arts, Meek did post graduate work in art history at Queens College in New York.
Her work is included in numerous private collections and is included in the public collections of the Museum of Fine Arts, Houston; Norwalk Community College in Norwalk, Conn.; and the African American Museum in Dallas. She has been awarded the coveted Otis and Velma Dozier Travel Grant sponsored by the Dallas Museum of Art, a National Endowment for the Arts New Forms Initiative Grant and City of Dallas public Art Commission. Meek served as a co-project artist for the largest public art project in Dallas, the Dallas Convention Center and was one of the featured artists in Project Row Houses, a major public art project in Houston. In addition, she has completed three light rail station designs for the Dallas Area Rapid Transit system, as part of its DART Art Program.
Most recently, Meek was selected as the only Dallas artist to be commissioned by the Nasher Sculpture Center's Nasher XChange Program to create a site-specific installation celebrating its ten year anniversary. Her installation "Black and Blue: Cultural Oasis in the Hills" honors the legacy of Bishop College's cultural contribution to the arts in Dallas. Last year, Meek was awarded one of the Dallas Observer's Mastermind Awards that recognize artists making a significant difference in the North Texas cultural world. This year, she was named one of the 100 Creatives in the city of Dallas.
In addition to her exhibition history, Meek has a long history as a curator. Having curated over 80 exhibitions, Meek serves as an adjunct curator for the African American Museum in Dallas. Her past employment history includes the directorship of Dallas Visual Art Center (currently the Dallas Contemporary Art Center), artistic coordinator for the Dallas Kennedy Center's Imagination Celebration, supervisor of community arts development for the City of Dallas Division of Cultural Affairs, artist in schools coordinator and senior program administrator for the Connecticut Commission on the arts, and various teaching positions at Brookhaven College, Kentucky State University, Philadelphia College of Art and Booker T. Washington High School for the Performing and Visual Arts in Dallas Independent School District. Meek is currently the manager of the South Dallas Cultural Center and is on the board of the National Performance Network.

Meek's talk is co-sponsored by: Africana Studies Program, Art Department, History Department, Media and Communication Department, Multicultural Life, Office of the Chaplain, RJ Fellows Program and the Lectures and Forum Committee.
Founded in 1848, Muhlenberg is a highly selective, private, four-year college located in the Lehigh Valley of eastern Pennsylvania, affiliated with the Evangelical Lutheran Church of America. Muhlenberg offers programs in the liberal arts and sciences, along with selected pre-professional studies and a number of interdisciplinary majors.