Bauer Repeats on Academic All-America First Team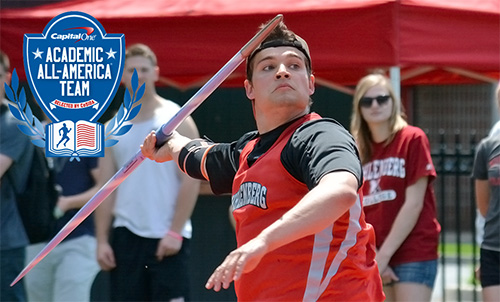 For the second straight year, Tyler Bauer '15 was named to the Capital One NCAA Division III Academic All-America Track & Field Cross Country first team, as selected by the College Sports Information Directors of America (CoSIDA).
Wednesday, June 24, 2015 04:00 PM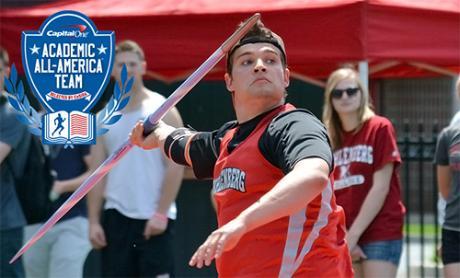 The Academic All-America selection is the third for Bauer, who made the second team in 2013 and the first team last year. He is the second three-time Academic All-American in the history of the Muhlenberg track and field program, joining Bobby Torphy '11, and the fourth Mule athlete in all sports to earn first-team Academic All-America honors more than once.
Bauer graduated summa cum laude as a double major in biology and music (music performance concentration). A three-time Centennial Conference champion and two-time All-American in the javelin, Bauer had the longest throw in Division III this year - 225 feet, 2 inches. It was the 10th-best mark in Division III history and made him the first Mule to be honored as national athlete of the week.
Bauer finished his career as the holder of the school, Centennial and Centennial meet records in the javelin. He was honored as Muhlenberg's Greek Leader of the Year, awarded to a student in the graduating class who has demonstrated outstanding leadership within both the College Community and the Greek system.
Bauer is the 10th Academic All-America selection (the sixth to make the first team) in the history of the Mule men's cross country/track and field program, all since 2005. Muhlenberg's streak of seven straight years with an Academic All-American is second among Division III men's programs; Nebraska Wesleyan has a current streak of 11 years.
To be eligible for Academic All-America honors, a student-athlete must be a varsity starter or key reserve, maintain a cumulative grade point average of 3.30 on a scale of 4.00, have reached sophomore athletic and academic standings at his current institution and be nominated by his sports information director. Since the program's inception in 1952, CoSIDA has bestowed Academic All-America honors on nearly 20,000 student-athletes in Divisions I, II, III, NAIA and two-year colleges covering all NCAA championship sports.
This article originally appeared on MuhlenbergSports.com, the home for Muhlenberg's athletic news.