'Berg hosts Lehigh Valley students in national chemistry competition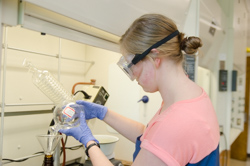 Local-level portion of You Be The Chemist Challenge® sponsored by Brenntag North America, Inc. and Muhlenberg's department of chemistry
Tuesday, February 17, 2015 09:51 AM
Muhlenberg College will host 30 local middle school students in the You Be The Chemist Challenge®, an academic question-and-answer competition created by the Chemical Educational Foundation (CEF) on February 21, 2015 from 9:15 a.m. - 1:00 p.m in the Seegers Union Event Space. Students from Muhlenberg's chemistry and biochemistry club will also be performing chemistry demos for the students at the event. The Challenge competition aims to engage fifth through eighth grade students in chemistry through a dynamic event that partners industry members with schools and organizations in the communities in which they operate.
"The Challenge exposes students to the fascinating world of chemistry as it applies to their everyday lives, allowing them to gain a greater appreciation of how chemistry and chemicals will continue to shape their world," stated CEF's Executive Director, John Rice. "Additionally, linking industry, educators and students together not only builds stronger community relationships but also highlights the importance of science education in an informal and celebratory manner," he added.
This local-level portion of the Challenge is sponsored by Brenntag North America, Inc. and Muhlenberg's chemistry department.
The top four students from the Lehigh Valley Local Challenge will advance to the Pennsylvania State Challenge on April 25, 2015, held at Penn State, State College, Pa. The winner of the state competition will move on to compete in the National Challenge held on June 22, 2015 in Philadelphia, Pa. There, they will compete with state winners from across the country.
Brenntag is a global market leader in chemical distribution. Headquartered in Germany, the company operates a global network with more than 480 locations in over 70 countries. For more information about Brenntag's North American operations, headquartered in Reading, Pennsylvania, visit www.brenntagnorthamerica.com.
Founded in 1848, Muhlenberg is a highly selective, private, four-year college located in the Lehigh Valley of eastern Pennsylvania, affiliated with the Evangelical Lutheran Church of America. Muhlenberg offers programs in the liberal arts and sciences, along with selected pre-professional studies and a number of interdisciplinary majors.