'Berg to host EF High School Exchange Year Program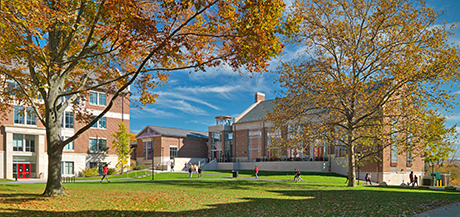 International students will come to campus for an immersion experience
Monday, March 23, 2015 03:01 PM
Muhlenberg College has been selected as the host site for the EF High School Exchange Year's orientation program from July 21 – August 15, 2015. This program is an immersion experience for over 900 international high school aged students from 13 countries around the world as they prepare for a year with host families across the United States. Students participating in this program also learn about the college application process as they prepare to continue their education in the United States.
"Muhlenberg's conference and events services staff is working hard with many departments across campus in preparation for this important and large-scale program," said JoEllen Rooney, conference services manager. "Holding a program of this size does not come without challenges. Our team stands ready to work with the campus community in welcoming and accommodating these guests in an effort to meet or exceed the expectations of the EF High School Exchange Year program."
EF High School Exchange Year, a nonprofit committed to promoting global awareness for over 30 years, is the leader in high school exchange, bringing more international students to the United States than any other organization. Their mission is to promote international understanding and global awareness across the United States, and to do so with the highest levels of program quality and participant support in the exchange community. This prestigious orientation program has taken place at a number of prominent colleges and universites for more than 20 years.
"Hosting the EF program this summer is a perfect match in terms of mission, objectives and providing opportunity for unique experiences," said Glenn Gerchman, director of Seegers Union and Campus Events. "Muhlenberg is focused on building a more inclusive and diverse campus community. Introducing nearly 1000 students from around the world to the culture of the United States at Muhlenberg is an effective component to these efforts. Muhlenberg will have the opportunity to meet with these students, exposing them to a community-centered campus environment and educating students on the college admission process in the United States."
Muhlenberg College's conference and event services, a department under the office of Seegers Union and campus events, was formalized as part of the school's Institutional Strategic Plan 2010-2015. The mission of conference and event services is to maximize the utilization of college resources and generate additional revenue to support College programming.
Since October 2011, Muhlenberg has hosted approximately 250 day events from corporate meetings and trainings, to galas, receptions, fundraisers and personal events such as retirement dinners, birthday parties and wedding receptions. Additionally, numerous residential camps and conferences are held every summer.
Founded in 1848, Muhlenberg is a highly selective, private, four-year college located in the Lehigh Valley of eastern Pennsylvania, affiliated with the Evangelical Lutheran Church of America. Muhlenberg offers programs in the liberal arts and sciences, along with selected pre-professional studies and a number of interdisciplinary majors.