Cora Wallace: Muhlenberg Heptathlete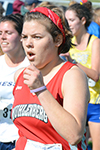 If you talk to Muhlenberg senior track and field athlete Cora Wallace long enough, you will find that she is a big fan of outer space.
Friday, May 8, 2015 08:13 AM
Whether it is galaxies, planets, stars, constellations or black holes, all of it interests her greatly.
"I always thought outer space was interesting. Certain things blew my mind when you learned some of the more intricate details. It seems like really unknown territory," Wallace said.
In sports, Wallace has become an expert in entering unknown territory. Over her four years at Muhlenberg, she has taken a winding path across four different sports to close out her career by finishing sixth in the heptathlon at the Centennial Conference Championships last weekend.
Recruited to Muhlenberg as a soccer goalie, Wallace chose to major in physics, a field where many of the questions that interested her about outer space could be answered. She learned early on that such a rigorous course of study would not mesh with the training schedule needed to be on the soccer team, at least she thought.
Ever the competitor, a college life without sports did not last long for Wallace, who got the itch to return to some sort of playing field not soon after she decided to discontinue her soccer career. A friend told her to come out for rugby in the spring of her freshman year, and she took to it.
For the full story, visit the Muhlenberg Athletics site.