Dr. Ronald Crutcher, national leader in higher education, announced as Commencement Speaker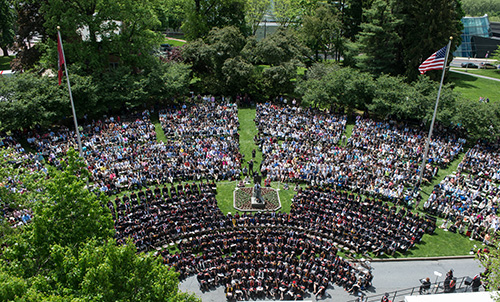 Honorary degrees will be awarded to Dr. Eric H. Cline, Ed Harris, Jackie MacMullan and Joia S. Mukherjee, M.D.
Wednesday, April 29, 2015 10:29 AM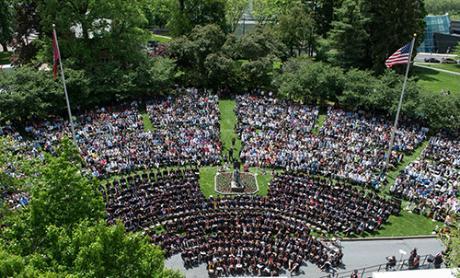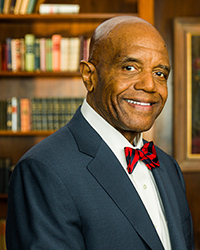 Dr. Ronald Crutcher, a national leader in higher education, distinguished classical musician and accomplished administrator, will speak at Muhlenberg College's 167th Commencement on May 17, 2015 at 10:00 a.m. The ceremony will be held on the historic college green. Crutcher will also be awarded an honorary doctorate. Other individuals receiving honorary degrees will be Dr. Eric H. Cline, Ed Harris, Jackie MacMullan and Joia S. Mukherjee, M.D.
Dr. Ronald Crutcher is the President-Elect of the University of Richmond. He will take office as Richmond's 10th President on July 1, 2015. He will also be a professor of music.
Crutcher is President Emeritus of Wheaton College in Massachusetts. As president from 2004–2014, he raised the institution's profile; increased enrollment and diversity of the student body; created new interdisciplinary faculty positions and academic programs; and ensured the institution's financial stability during a challenging economic period for all of higher education. Wheaton students consistently garnered prestigious academic honors and ranked as one of the top Fulbright Scholarship producers among liberal arts colleges. Crutcher led the institution's most successful fundraising campaign, engaging 72 percent of alumni and raising significant funds for a range of priorities including the $46M Mars Center for Science and Technology.
He is a member of the Board of the Posse Foundation, a college access and youth leadership development program for public high school students. In 2012, he received the Posse Star award, recognizing his leadership, contributions to the field of education and positive effects on individual students' lives.
Crutcher is founding co-chair of LEAP (Liberal Education and America's Promise), the Association of American Colleges and Universities' national campaign to demonstrate the value of liberal education. He has served on the Board of the American Council on Education (ACE) and the Fulbright Association and was Chair of the Association of Independent Colleges and Universities in Massachusetts.
A former member of the Cincinnati Symphony Orchestra, he currently performs as a member of the Klemperer Trio with Erika Klemperer (violin) and Gordon Back (piano). He serves on the Board of Overseers of Boston Symphony Orchestra and previously served on the board of Berklee College of Music. Earlier in his career he was President of Chamber Music America; director of the highly ranked Butler School of Music at the University of Texas at Austin; and dean of the Conservatory at the Cleveland Institute of Music.
Dr. Eric H. Cline is professor of classics and anthropology, former chair of the department of classical and near eastern languages and civilizations, and current director of the Capitol Archaeological Institute at The George Washington University, in Washington D.C.
An active field archaeologist, he has excavated and surveyed in Israel, Egypt, Jordan, Cyprus, Greece, Crete and the United States virtually every summer since 1980, for a total of 30 field seasons. He is currently co-director of two excavations in Israel: Megiddo (biblical Armageddon) and Tel Kabri, which operate in alternate summers.
Recently under consideration for a Pulitzer Prize for his most recent book, "1177 BC: The Year Civilization Collapsed" (2014), and a three-time winner of the Biblical Archaeology Society's "Best Popular Book on Archaeology" award (2001, 2009 and 2011), Cline has authored, co-authored or edited a total of 16 books, which have been published by prestigious presses including Princeton, Oxford, Cambridge, Michigan and National Geographic. He has also authored or co-authored nearly 100 articles. His books have been translated, or are currently being translated, into 14 languages including French, German, Italian, Dutch, Spanish, Portuguese, Turkish, Korean, Chinese, Japanese, Russian, Serbian, Bulgarian and Hungarian .
At GW, Cline is the first faculty member to win both the Trachtenberg Prize for Teaching Excellence and the Trachtenberg Prize for Faculty Scholarship. He has also won the Archaeological Institute of America's Excellence in Undergraduate Teaching Award and been nominated three times for the CASE U.S. Professor of the Year.
Cline's research has been featured and reviewed in numerous highly respected newspapers and magazines, the Associated Press, all of the major television networks and many cable networks. He has also appeared in more than 20 television programs and documentaries, ranging from ABC to the BBC and the National Geographic, History and Discovery Channels. He has been interviewed by syndicated national and international television and radio hosts.
Ed Harris is an actor and director and the recipient of two Golden Globe awards, a Screen Actors Guild award and a National Society for Film Critics award, as well as Obie, Lucille Lortel and Drama Desk Awards. He made his feature film directing debut on Pollock, receiving an Academy Award nomination as Best Actor for his performance in the title role. Harris' film credits include Appaloosa (director, co-screenwriter and star), A History of Violence (Natl. Society of Film Critics Award), The Hours (Oscar, Golden Globe, SAG and BAFTA nominations), Frontera, The Face of Love, Pain and Gain, Gone Baby Gone, The Truman Show (Oscar nomination, Golden Globe Award), Apollo 13 (Oscar and Golden Globe nominations, SAG Award), The Way Back, Copying Beethoven, The Right Stuff, The Abyss, The Rock, The Human Stain, A Beautiful Mind, Stepmom, The Firm, A Flash of Green, Places in the Heart, Alamo Bay, Sweet Dreams, Jacknife, State of Grace, The Third Miracle and Touching Home.
Harris will star in the upcoming Westworld for HBO. When last on HBO, he won a Golden Globe Award for Best Supporting Actor, along with Emmy and SAG nominations, for his portrayal of John McCain in Game Change. He starred in the HBO miniseries Empire Falls, for which he received Emmy, Golden Globe and SAG Best Actor nominations.
In 2012, at the Geffen Playhouse in Los Angeles, Harris starred in the world premiere of The Jacksonian, a role that he reprised to critical acclaim in the New York premiere. Harris received both an Outer Critics Circle Award nomination ("Outstanding Solo Performance") and a Lucille Lortel Award nomination ("Outstanding Solo Show") for the Off-Broadway production of Wrecks at New York City's Public Theatre. He originated the role, with writer/director Neil LaBute, for the play's world premiere at the Everyman Palace Theatre in Cork, Ireland and won the 2010 LA Drama Critics Circle Award for "Best Solo Performance" for the production of Wrecks at the Geffen Playhouse. Theatre credits include: Taking Sides, Fool for Love (Obie), Simpatico (Lucille Lortel Award for "Best Actor"), Precious Sons (Drama Desk Award), Prairie Avenue, Scar, A Streetcar Named Desire, The Grapes of Wrath and Sweet Bird of Youth.
Jackie MacMullan is a television analyst for ESPN and Comcast Sports Net and a columnist for ESPNBOSTON.com. Previously, she was a columnist and associate editor of The Boston Globe and a senior writer for Sports Illustrated, covering the National Basketball Association. She appears weekly on "Around the Horn" as the only female panelist and is a regular contributor to WHDH-TV (Channel 7) and WEEI radio.
MacMullan was recognized by the Naismith Basketball Hall of Fame with the Curt Gowdy Award for a career of excellence in basketball writing and reporting. She is the first and only woman selected in the history of the award. MacMullan has won several national writing awards from the Associated Press Sports Editors, including first place for investigative reporting (on the death of Reggie Lewis) and feature writing (a profile of Patrick Ewing).
Her book "Shaq UnCut" was a New York Times bestseller. She authored a book with Earvin "Magic" Johnson and Larry Bird entitled, "When the Game Was Ours," which spent eight weeks on the New York Times bestseller list and later adapted into a Broadway play. She collaborated with Bird on a book chronicling his coaching career entitled "Bird Watching" and teamed with Connecticut coach Geno Auriemma to write his memoir "Geno: In Pursuit of Perfection.''
In 2011, the University of Massachusetts-Lowell honored her as its first recipient of the For the Love of Sport Award, given to the member of the community who "embodies talent, character and enthusiasm in a sports-related field.'' In December of 2013, WISE (Women in Sports and Events) honored MacMullan as the first recipient of its Women of Inspiration Award.
In 2005, MacMullan was inducted into the New England Basketball Hall of Fame in the media division, the youngest media member to be recognized. In 2003, she was chosen by the Institute of Sport in Society as its Hero in Sport winner, and in 2000 was named the New Fund Hall of Fame media recipient. The New England Women's Leadership Awards honored her in 1997, and Tufts awarded her with its Distinguished Achievement Award in 1995.
Joia Mukherjee, M.D. is an associate professor of medicine in the Division of Global Health Equity, Department of Medicine, Brigham and Women's Hospital, and associate professor of global health and social medicine at Harvard Medical School. In the Department of Global Health and Social Medicine, she directs the master of medical science - global health delivery program and the program in global medical education and social change. She teaches infectious disease, global health delivery and human rights to health professionals and students from around the world. She has helped to create new residency and fellowship training programs for Rwandan and Haitian physicians as well as global health residencies and fellowships for U.S. trainees at Harvard and other American universities.
Mukherjee's scholarly work focuses on the provision of health as a human right and on the implementation of complex health interventions in resource-poor settings.
Mukherjee is a graduate of the University of Minnesota Medical School, trained in infectious disease, internal medicine, and pediatrics at the Massachusetts General Hospital, and has an MPH from the Harvard School of Public Health. Since 2000, Mukherjee has served as the chief medical officer of Partners In Health, a nonprofit focused on reducing global health disparities by strengthening health systems through public sector support and community-based programs. She provides strategic guidance on the implementation of clinical programs at PIH's sites in Haiti, Rwanda, Malawi, Lesotho, Peru, Mexico and Russia and has served as an expert consultant for the World Health Organization and Ministries of Health on of HIV, TB, health systems strengthening and health work force development.
Mukherjee also serves on the board of directors for Last Mile Health (Liberia), Village Health Works (Burundi) and Muso (Mali) and advises various grassroots organizations throughout the developing world in their work to deliver health care with a human rights based approach to the poorest of the poor.
Founded in 1848, Muhlenberg is a highly selective, private, four-year college located in the Lehigh Valley of eastern Pennsylvania, affiliated with the Evangelical Lutheran Church of America. Muhlenberg offers programs in the liberal arts and sciences, along with selected pre-professional studies and a number of interdisciplinary majors.