Eidman Shoots 70 at Alvernia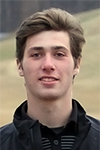 Freshman Daniel Eidman of the Muhlenberg men's golf team shot a 2-under-par 70 to earn medalist honors at the Alvernia Spring Invitational.
Wednesday, April 1, 2015 02:47 PM
Playing in chilly weather, Eidman shot three birdies and an eagle (on the par-4, 271-yard 12th hole) en route to setting a tournament record and winning by four strokes. He was the first Mule to shoot a 70 since Bill Snow at the Gettysburg Invitational in the fall of 2008.

Muhlenberg came in second in the 15-team tournament, 10 strokes behind Messiah. Freshman Evan Overcash birdied two par-3 holes on the back nine and tied for eighth with a 77.
For more sports news, please visit Muhlenberg Athletics.