Football Defeats Moravian to Clinch Postseason Game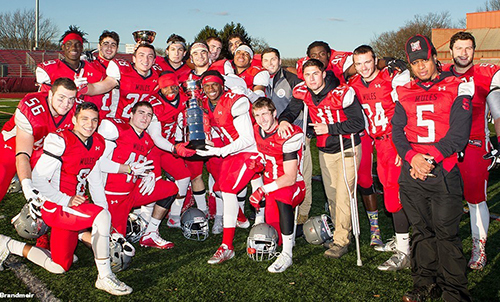 Junior Nick Palladino accounted for all four touchdowns and tied a conference record for passing accuracy, leading Muhlenberg football to a 28-14 win against local rival Moravian.
Monday, November 16, 2015 08:33 AM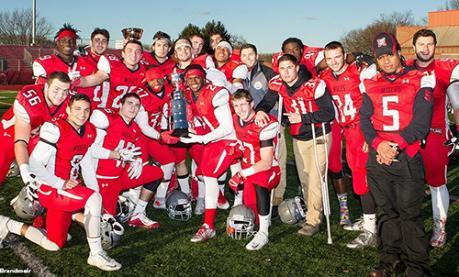 With the win, the Mules (8-2, 7-2) clinched their 12th postseason berth in the last 16 seasons. They will most likely host Stevenson in the inaugural Centennial/MAC Bowl Series, while the regionally ranked Greyhounds (8-2, 7-2), who needed a win to keep their NCAA Tournament hopes alive, are likely headed to Delaware Valley.

Palladino completed 19 of 21 passes, tying the school and Centennial Conference record for completion percentage in a game (.905). He threw for 137 yards while also rushing 14 times for 71 yards and a pair of scores. In addition, Palladino ran for a two-point conversion, earning the Bianco Award as Muhlenberg's game MVP.

The Mule defense, which came in 12th in Division III against the run, held Moravian to 23 rushing yards on 26 attempts on the strength of seven sacks. The Greyhounds came in averaging 229.3 yards per game.

The win was the 33rd for the senior class, tying the school record for most wins in a four-year period.
Palladino (pictured at left with Muhlenberg President John Williams) scored the game's first touchdown on a 16-yard run with 4:34 left in the first quarter on the first play after a 24-yard punt return by junior Ryan Delaney and a 15-yard face mask penalty. He then ran in the two-point conversion.

Muhlenberg used a short field again to score its second TD. Early in the second quarter, junior Mike Luby sacked the Moravian quarterback, forcing a fumble that was recovered by senior Lenny Smith at the 5-yard line. Two plays later, Palladino hit Delaney for a 7-yard touchdown.

Palladino ended the Mules' next drive with a 5-yard scoring run, extending the lead to 22-0. The Greyhounds followed by putting together their best drive of the first half, but sacks on back-to-back plays by sophomores Thomas Cosgriff and Matt Musilli forced them back, and a fourth-down pass into the end zone was broken up.

Moravian threw two touchdown passes in the second half, sandwiched around Palladino's 5-yard scoring pass to sophomore Max Cepeda.

Smith made a team-high nine tackles, 1½ for loss, for Muhlenberg to go along with his fumble recovery and a pass breakup. Luby recorded 2½ sacks, runnng his season total to 11½, the second-highest in program history.
This article originally appeared on MuhlenbergSports.com. Visit the Muhlenberg athletics website for box score, roster information and more!