Global Chef Bilal Eido shares flavors of the United Arab Emirates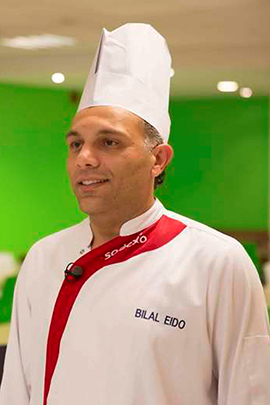 Muhlenberg students will experience authentic Arab cuisine in the Wood Dining Commons when Chef Bilal Eido visits from the United Arab Emirates on March 9-10, 2015, as part of the Sodexo Global Chef program.
Wednesday, March 4, 2015 10:50 AM
This program allows students to get a taste of another culture while also exposing the local culinary staff to new techniques and flavors. Eido will work directly with Muhlenberg's culinary team to prepare genuine Arab menus for breakfast, lunch and dinner in the Wood Dining Commons. "My passion is to develop new chefs to discover their own talents in the same way that I was encouraged," said Eido. "Be it through practical demonstration or sharing my knowledge, I believe whole-heartedly in staying active, continuously learning and always having fun."
During his 20 years of culinary experience, Eido has developed his own unique style and flair while being privileged enough to share his passion with friends, students and co-workers at exclusive restaurants, hotels and catering companies throughout Syria, Doha Qatar and Lebanon.
The Wood Dining Commons is located in the Seegers Union Building on Muhlenberg's campus. It is open to the public and offers an all-you-care-to-eat dining experience with eight individual platforms including fully integrated kosher meat and dairy kitchens. Breakfast, lunch and dinner are served Monday – Friday along with brunch and dinner on the weekends.
The Global Chef Program is a month-long international chef residency that provides an opportunity for Sodexo's top chefs worldwide to travel to different countries and share authentic international cuisine with local students, faculty and staff. For more information, visit www.muhlenberg.edu/dining.
Founded in 1848, Muhlenberg is a highly selective, private, four-year college located in the Lehigh Valley of eastern Pennsylvania, affiliated with the Evangelical Lutheran Church of America. Muhlenberg offers programs in the liberal arts and sciences, along with selected pre-professional studies and a number of interdisciplinary majors.