James Peck named associate dean for diversity initiatives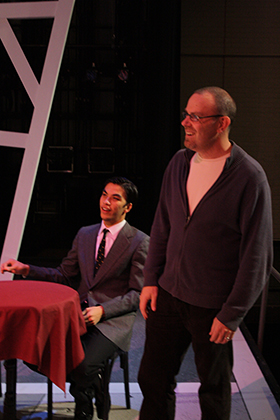 New appointment is one among many recommendations of the College's Diversity Strategic Planning Committee
Thursday, April 2, 2015 01:47 PM
Muhlenberg College announces that James Peck, professor of theatre arts and affiliate faculty in the Africana studies program, will serve as the College's first dean for diversity initiatives.
This appointment is one among many important recommendations of the Diversity Strategic Planning Committee. The associate dean for diversity studies will be responsible for recruiting and retaining a diverse faculty, strengthening the depth and complexity of teaching and learning about diversity, working collaboratively with the office of multicultural life and engaging with national diversity programs such as the Consortium for Faculty Diversity and Intergroup Dialog.
Peck chaired the department of theatre and dance from 2006-2013. As chair, he initiated and oversaw a substantial diversification of the theatre curriculum. He served as co-chair of the Multicultural Center Advisory Board from 2011-2014 and is a co-founder of its Meeting Points series. With Dr. Kim Gallon, formerly of the history department, he created a MILA (Muhlenberg Integrated Learning Abroad) course about the history and performance culture of the West African nation of Ghana, the College's first MILA to that continent. He served on Curriculum Committee from 2009-2012, where he contributed to the development of the College's new HDGE (Human Diversity and Global Engagement) requirement. He is currently serving as faculty director of the Mellon Foundation grant, "Achieving Muhlenberg's Civic and Global Mission."
Peck received the Lindback Teaching Award in 2013, the Williams Award in 2005 and the First Year Advising Award in 2004.
He holds an M.F.A. in theatre (directing) from the University of California at San Diego and a Ph. D. in performance studies from New York University.
Founded in 1848, Muhlenberg is a highly selective, private, four-year college located in the Lehigh Valley of eastern Pennsylvania, affiliated with the Evangelical Lutheran Church of America. Muhlenberg offers programs in the liberal arts and sciences, along with selected pre-professional studies and a number of interdisciplinary majors.