Living Writers series brings acclaimed authors to Muhlenberg College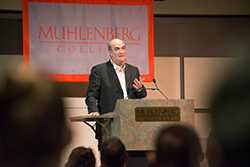 The Muhlenberg College English Department presents "Living Writers," which in its 20th year, brings both burgeoning & established authors to campus.
Tuesday, September 8, 2015 04:05 PM
In addition to interacting with students, each author will hold a public reading and book signing, both of which are open to the public.
Students enrolled in the course read recent works from the selected authors and then interact with the writers directly as they visit campus for a day. Writers attend classes, have lunch with students and then give a public reading of their work in the evening.
Readings will include:
Patricia Smith, poet
September 14, 7 p.m.
Miller Forum, Moyer Hall
Stephen Kuusisto, memoirist and poet
September 28, 7 p.m.
Miller Forum, Moyer Hall
Maggie Shipstead, novelist
October 19, 7 p.m.
Miller Forum, Moyer Hall
Aracelis Girmay, poet
November 2, 7 p.m.
Miller Forum, Moyer Hall
Neil Gaiman, author of fiction for adults and children, graphic novelist
November 16, 7 p.m.
Empie Theatre, Center for the Arts
Phil Klay, author of short fiction
November 30, 7 p.m.
Miller Forum, Moyer Hall
All readings, except for Gaiman's, are free of charge. Tickets for the Gaiman reading will go on sale to the public on Sept. 21 (limit 4 tickets at $15/ticket, on-line or in person at the box office); student tickets go sale on Sept. 7, at the box office only (limit 1 ticket with ID at $8).
Founded in 1848, Muhlenberg is a highly selective, private, four-year residential college located in Allentown, Pa., approximately 90 miles west of New York City. With an undergraduate enrollment of approximately 2200 students, Muhlenberg College is dedicated to shaping creative, compassionate, collaborative leaders through rigorous academic programs in the arts, sciences, business, education and public health. A member of the Centennial Conference, Muhlenberg competes in 22 varsity sports. Muhlenberg is affiliated with the Evangelical Lutheran Church in America.