Marine Corps Vet Dan Lasko To Speak at Raker Lecture on Sept. 29 at Muhlenberg College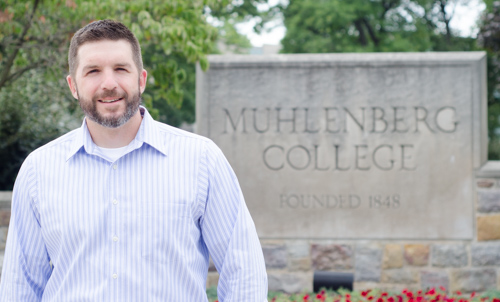 Lasko, a Marine Corps veteran, will discuss the challenges of being a wounded warrior and amputee as the topic of the Conrad W. Raker Lecture, held at Muhlenberg on September 29.
Tuesday, September 8, 2015 04:17 PM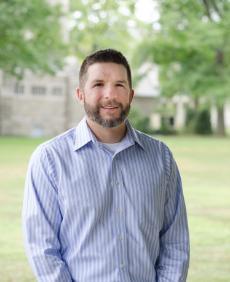 The 7:30 p.m. talk, "Wounded Warrior: Stronger Than Ever," will take place in Egner Memorial Chapel, located on the Muhlenberg College campus at 2400 West Chew St., Allentown, and is part of the Conrad W. Raker Lecture Series, co-sponsored by the College and Good Shepherd Rehabilitation Network.
The event is free and open to the public, but reservations are required. To make a reservation, email callcenter@gsrh.org or call 1-888-44-REHAB (73422).
Dan Lasko enlisted in the United States Marine Corps upon graduating from Easton High School in September 2001. While riding in a convoy in Afghanistan in 2004, Cpl. Lasko took the brunt of an explosion after his vehicle crossed over a trip wire, detonating an IED. After several surgeries, Lasko's left leg was amputated below the knee. Among the medals Lasko received for his military service are the Purple Heart Medal, Navy Marine Corps Achievement Medal and Afghanistan Campaign Medal. He was medically retired from the Marine Corps in April 2005.
Since that time, Lasko earned an associate's degree in criminal justice and completed a two-year fellowship with the House of Representatives through the Wounded Warrior Program Fellowship Program. He appeared in an episode of "All My Children," co-hosted the 2014 TV show "Saving Heroes" on the American Heroes Channel and will appear in a fall 2015 Pedigree dog food commercial.
Lasko currently serves as Director of Government Relations for Sahl Communications, a public relations and communications firm. He resides in Hanover Township, Pa., with: his wife Jess; two sons, Luke (5) and Ben (1); service dog Wally and rescue dog Maggie.
Lasko is an active member of the Wounded Warrior Amputee Softball Team, Wounded Warrior Flag Football Team and Semper Fi Funds Team. He has competed in numerous marathons and triathlons around the world, including one of the hardest triathlons, Escape from Alcatraz. His hard work and dedication have earned him the status of an elite athlete.
Lasko has volunteered for many organizations, including Good Shepherd Rehabilitation Hospital Pediatric Unit.
The event is part of Lehigh Valley Arts Council's Arts and Access programming, commemorating the 25th anniversary of the Americans with Disabilities Act (ADA).
The Conrad W. Raker Lecture Series was established by the Board of Trustees at Good Shepherd in honor of the anniversary of the ordination of The Reverend Dr. Conrad W. Raker, son of the founder of Good Shepherd, as a Lutheran pastor. Raker, a Muhlenberg alumnus, was an administrator at Good Shepherd until 1980. He served as administrator emeritus and was an active member in the Good Shepherd family until shortly before his death in 2002.
Past speakers include author/writer Tom French, healthcare management experts Dr. Regina Herzlinger and Dr. William Foege and bioethicist Dr. Arthur Caplan.
Good Shepherd Rehabilitation Network, based in Allentown, Pa., is a nationally recognized rehabilitation leader, offering a continuum of care for people with physical and cognitive disabilities and specializing in assistive and rehabilitation technology. More than 60,000 people come to Good Shepherd each year for specialized programs in stroke, orthopedics, brain injury, spinal cord injury, pediatrics, amputation and more. Good Shepherd provides rehabilitation services in 8 eastern Pennsylvania counties. Good Shepherd operates 22 outpatient sites, 4 inpatient sites, a long-term acute care hospital, 2 long-term care homes for people with severe disabilities, an independent living facility and a lifestyle products online store called Rehability. Good Shepherd Penn Partners, a partnership of Good Shepherd Rehabilitation Network and Penn Medicine, began operations in July 2008 and provides post-acute care in the Philadelphia region. Good Shepherd was founded in 1908 when The Rev. John and Estella Raker invited a disabled orphan named Viola into their Allentown, Pennsylvania, home. Good Shepherd is affiliated with the Evangelical Lutheran Church in America. For more information, visit www.GoodShepherdRehab.org.
Founded in 1848, Muhlenberg is a highly selective, private, four-year residential college located in Allentown, Pa., approximately 90 miles west of New York City. With an undergraduate enrollment of approximately 2200 students, Muhlenberg College is dedicated to shaping creative, compassionate, collaborative leaders through rigorous academic programs in the arts, sciences, business, education and public health. A member of the Centennial Conference, Muhlenberg competes in 22 varsity sports. Muhlenberg is affiliated with the Evangelical Lutheran Church in America.