Muhlenberg College circus troupe to host local fifth graders for interactive performance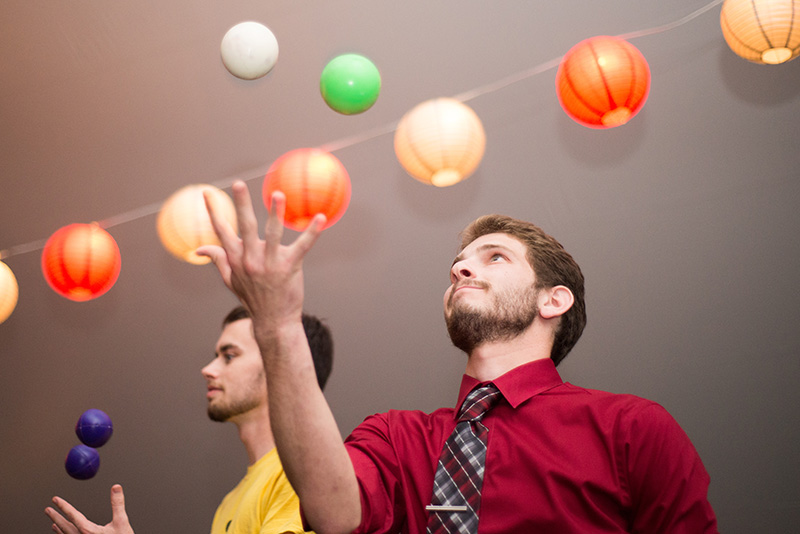 On Friday, Dec. 4, the Circus Troupe of Muhlenberg College will host fifth graders from Jefferson Elementary School at its first Circus Extravaganza.
Wednesday, November 25, 2015 02:27 PM
The event, conceived by Muhlenberg senior Adam Halpern, will involve a circus performance in the college's iconic Paul C. Empie Theatre, a question-and-answer session with the Muhlenberg Circus performers, followed by an interactive session where the school children will go through stations to learn assorted circus-performing skills.
"With various arts and physical education programs cut in the Allentown School District, this event fills a necessary void. By experiencing the imaginative Circus Extravaganza, the 5th Grade students will see the impossible become possible," says Halpern.
At the Circus Extravaganza, students will participate in 8 different stations, each run by Circus performers or Muhlenberg volunteers. Stations include clowning/comedy, face paint, juggling, tap/rhythm/dance, acrobatics, hula-hoop, high-energy games and improvisation games.
Muhlenberg College launched its Circus Workshop in January 2014, under the direction of Noah Dach '16 and Henry Evans '16, and the Muhlenberg Circus premiered in a series of performances in April 2015. The troupe is made up of about 30 Muhlenberg dancers, actors, gymnasts and aerial acrobats, many of whom are performing arts majors. Others participate to enrich their college experience.
Halpern is a neuroscience major and music minor, and plans to attend medical school after graduation to pursue a career as a pediatric neurosurgeon. He one of the jugglers and community outreach leaders.
The Muhlenberg Circus has performed for the Jefferson Arts after-school program, Bethlehem Sands Casino, Zoellner Arts Center at Lehigh University and Muhlenberg's Best Buddies.
"Community engagement is a vital priority of the Muhlenberg Circus. Together, we make a better and more creative Allentown," says Halpern.
The Circus Extravaganza will take place on Dec. 4 from 10 a.m. to 12:30 p.m. in The Paul C. Empie Theatre at Muhlenberg College. The Muhlenberg Board of Associates is funding the event.
Founded in 1848, Muhlenberg is a highly selective, private, four-year residential college located in Allentown, Pa., approximately 90 miles west of New York City. With an undergraduate enrollment of approximately 2200 students, Muhlenberg College is dedicated to shaping creative, compassionate, collaborative leaders through rigorous academic programs in the arts, sciences, business, education and public health. A member of the Centennial Conference, Muhlenberg competes in 22 varsity sports. Muhlenberg is affiliated with the Evangelical Lutheran Church in America.