Muhlenberg College Enters International Partnership with University of Groningen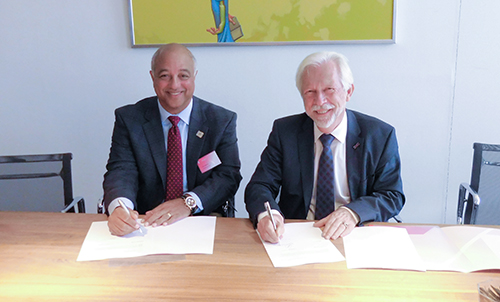 President John Williams and Dr. William Gruen visited the prestigious Dutch university to meet with administration and faculty before signing a Memorandum of Understanding with University president Sibrandes Poppema.
Tuesday, September 29, 2015 08:20 AM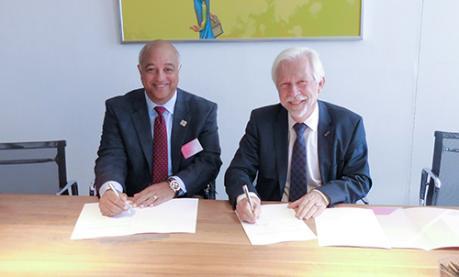 Photo provided by Dr. William Gruen, associate professor and chair of religion studies at Muhlenberg College.
Students will benefit from exchange opportunities between the institutions, and faculty will have the opportunity to participate in short-term collaborations to bring together globally recognized experts in religion studies, complementing the expertise present in both the Muhlenberg College and University of Groningen departments.
Muhlenberg offers strong support for global education. Over 52% of 2015's graduating class studied abroad, and 270-300 students engage in study abroad each academic year. In addition to the established relationships in Costa Rica, Bangladesh, Italy, China and other nations through the Muhlenberg Integrated Learning Abroad short-term study programs, the majority of students have spent full semesters in Europe, Latin America, Africa, Asia, the Middle East and Oceania. Muhlenberg College was recently ranked 30th for the total number of students sent abroad by baccalaureate colleges in the 2014 edition of "Open Doors," published by the Institute of International Education.
The College is the recent recipient of a $428,000 Andrew Mellon Foundation grant designed to support interconnected initiatives aimed at globalizing the curriculum, increasing student study abroad opportunities and strengthening faculty scholarship in the liberal arts. This summer Muhlenberg faculty will lead their peers in an excursion Bangladesh to develop pedagogy and further international education and exploration efforts.
The University of Groningen, founded in 1614, is ranked as one of the world's top 100 universities and one of Europe's greenest colleges. The University enrolls over 30,000 students and hosts a strong international population. The campus is home to the Qumran Institute, dedicated to the study of the Dead Sea Scrolls, and the Program for the Study of Religion and Conflict, an institution that considers the ways religious communities engage in encounters with other faiths.
Founded in 1848, Muhlenberg is a highly selective, private, four-year residential college located in Allentown, Pa., approximately 90 miles west of New York City. With an undergraduate enrollment of approximately 2200 students, Muhlenberg College is dedicated to shaping creative, compassionate, collaborative leaders through rigorous academic programs in the arts, sciences, business, education and public health. A member of the Centennial Conference, Muhlenberg competes in 22 varsity sports. Muhlenberg is affiliated with the Evangelical Lutheran Church in America.