Muhlenberg College recognized as one of the greenest American schools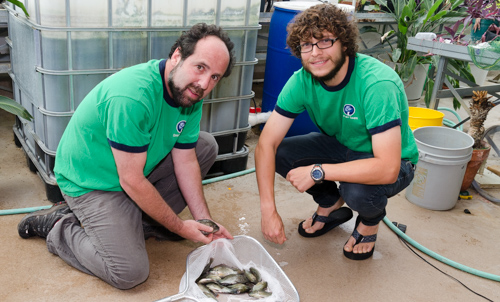 The Sierra Club recently released a list of the most environmentally conscious American institutions, and Muhlenberg College made the cut.
By: Alexandra Loeser '16 Tuesday, August 18, 2015 08:05 AM
Muhlenberg made the list at #108. The Sierra Club determined the constituents of this list by assigning point values to a variety of categories, including Energy, Investments, Food, Innovation, Planning and Purchasing.
Muhlenberg received a total score of 531.34 out of 1000 possible points, with the highest point values concentrated in the Waste and Energy categories at 86.16 and 85.43, respectively. Muhlenberg earned points in the first category due to several sustainable energy practices; Muhlenberg generates renewable electricity from two solar photovoltaic panels located on top of Seegers Union and utilizes solar hot water heaters for the Life Sports Athletic Center and the Tree House. Muhlenberg also seeks to raise awareness about issues of sustainability through specific science courses and through its student environmental club, EnAct.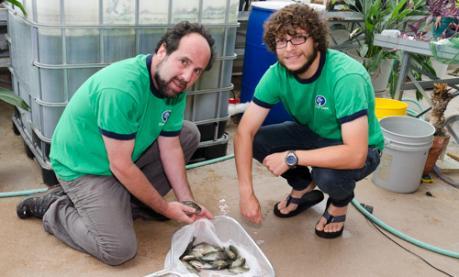 Dr. Rich Niesenbaum & Lucas Michelotti '12 engage in sustainable aquaculture research with tilapia in a closed-loop system.
The Office of Sustainability at Muhlenberg works to "facilitate the linkage between academic and facilities-based sustainability efforts, to create student internship opportunities in the area of campus sustainability, to support student environmental groups and to seek out external funding and maintain resources to further the integration of sustainability into the curriculum and across campus."
"At the center of Muhlenberg's greening efforts is its unique academic program in sustainability studies. In this program, students from a variety of disciplinary backgrounds come together to explore innovative ways to solve environmental problems," said Richard Niesenbaum, director of sustainability studies and professor of biology. "Included in the program are numerous experiential opportunities either locally, or in our programs in Bangladesh, China and Costa Rica. The Sustainability Studies program seamlessly interfaces with the non-academic aspects of the College as students and faculty work directly with plant operations staff, the Office of Campus Sustainability and dining services. Thus, students are directly involved in day-to-day campus greening efforts."
The ranking index for this list provides fair, comparative information about the most important elements of campus sustainability. Researchers determine the numbers and order when they evaluate schools' survey responses via a scoring key developed to emphasize the Sierra Club's environmental priorities. This ranking aims to act as a guide for prospective students who seek a way to compare colleges based on the schools' commitment to environmentalism. It also serves to spur competition, raise eco-standards on campus and publicly reward the institutions that work hard to protect the planet.
Founded in 1848, Muhlenberg is a highly selective, private, four-year residential college located in Allentown, Pa., approximately 90 miles west of New York City. With an undergraduate enrollment of approximately 2200 students, Muhlenberg College is dedicated to shaping creative, compassionate, collaborative leaders through rigorous academic programs in the arts, sciences, business, education and public health. A member of the Centennial Conference, Muhlenberg competes in 22 varsity sports. Muhlenberg is affiliated with the Evangelical Lutheran Church in America.