Muhlenberg Field Hockey Earns ECAC Bid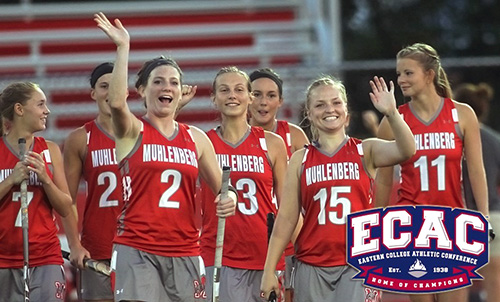 For the second straight year, field hockey was rewarded for its season with a bid to the Eastern College Athletic Conference Mid-Atlantic Tournament. Muhlenberg hosts the first-round game Nov. 11 at 7:30 p.m.
By: Muhlenberg College Sports Information Tuesday, November 10, 2015 08:44 AM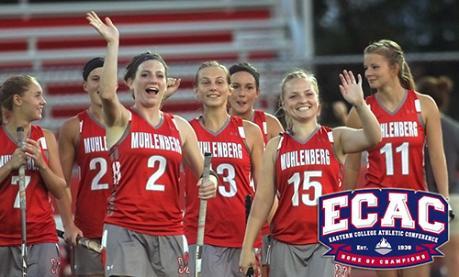 The Mules (11-6) are the second seed in the eight-team tournament and will host seventh-seeded Alvernia (12-7) in a first-round game on Wednesday at 7:30.
Juniata is the top seed, with FDU-Florham (No. 3), defending champion Stevenson (No. 4), Kean (No. 5), Lebanon Valley (No. 6) and William Paterson (No. 8) also earning bids. The semifinals are scheduled for Saturday, with the final to be played the following day.
Muhlenberg tied for third in the Centennial Conference in the regular season and was the fourth seed for the CC playoffs. In the first round, the Mules lost 1-0 in overtime to Dickinson, which went on to push top seed and fourth-ranked Franklin & Marshall in the semifinals before falling 1-0 on a goal with 4:11 left.
Alvernia went 3-4 in the Commonwealth Conference, missing out on a playoff berth by one game. The Crusaders closed out their regular season with wins against two teams that are in the NCAA Tournament, Freedom Conference champion Misericordia and Colonial States Athletic Conference champion Cabrini.
The teams have three common opponents with similar scores: Both lost to Franklin & Marshall (Alvernia 7-2 and Muhlenberg 4-0) and defeated Stockton (Alvernia 3-2 and Muhlenberg 2-1). The Crusaders posted a 2-1 win against King's, a team to which the Mules lost 1-0 in overtime.
The ECAC playoff game shapes up as an interesting matchup between the Muhlenberg defense and Alvernia's top scorer. The Mules rank 28th in Division III with a 1.24 goals-against average and have allowed more than one goal only three times in their last 15 games. Crusader junior forward Margaret Wentzel is fifth in Division III with 27 goals and has scored in every game but two this season.
Muhlenberg is led in scoring by junior Emily Boyle with nine goals. The Mules' biggest win of the season was a 1-0 shutout of Montclair State, at the time ranked seventh and now ranked ninth in Division III.
The postseason berth is the fourth for the Mules, who played in the NCAA Tournament in 1989 and the ECAC Tournament in 1998 and 2014.
This article originally appeared on 11/09/15 on MuhlenbergSports.com.