Muhlenberg hosts climate change awareness events
Muhlenberg College brings two events to campus that are intended to spark discussion about climate change throughout the College community.
Monday, October 5, 2015 08:11 AM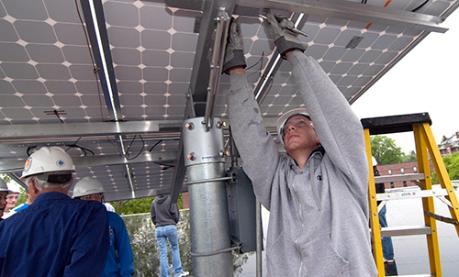 Installation of solarphotovoltaic panels to heat water for Muhlenberg's Life Sports Center
The first event, a screening and discussion of "Comfort Zone: A Film About Change," will be held on Oct. 7, at 6 p.m. in Trumbower 130. This documentary poses the question "what can we do?" about our negative impacts on the environment, both at the collective and individual levels. It offers a unique approach to stimulating dialogue about climate change.
The second event, held on Oct. 22, at 6 p.m. in Trumbower 130, is a Pennsylvania Department of Environmental Protection Clean Power Plan listening session. This event will be one of many state-wide listening sessions about the plan in order to offer all stakeholders an opportunity to provide input into drafting a Clean Power Plan that is tailored to fit Pennsylvania's economy. In August 2015, the United States government passed the EPA Clean Power Plan, the first and only national standard that limits carbon pollution from power plants in the U.S. Muhlenberg's listening session is a product of the momentum generated by new standards of environmental protection in the U.S. government.
Heidi Kunka (Kunsch) '81, PADEP Energy Program Specialist, and Liz Schmitt '07, Outreach Coordinator for Climate Change and Energy at The Union of Concerned Scientists, will participate in this event.
"Global climate change is real and it is well underway. It is altering natural habitats, causing extreme weather events, and placing human health, our economies and societies at risk," comments Dr. Richard Niesenbaum, professor of biology and director of sustainability studies at Muhlenberg. "We should not be debating whether climate change is real, but rather, what we are going to do about it. The goal of these two programs is to generate discussion about solutions to the problem of global climate change. Will we do nothing, and if so how are we going to adapt to the inevitable changes that will occur as a result? How can we effectively slow or reverse climate change? Or, will we transform our models of growth and development in order to preserve a healthy planet on which we all may thrive?"
Muhlenberg has not turned a blind eye to the effects of global climate change. In August 2015, The Sierra Club ranked Muhlenberg at 108 on a list of the most environmentally conscious American institutions. The College has implemented various sustainable practiced throughout campus in recent years in order to earn placement on this list. In 2013, Muhlenberg dining services transitioned from distributing disposable to-go boxes to implementing reusable boxes, drastically decreasing the amount of waste produced by students.
The College also generates renewable electricity from two solarphotovoltaic panels located on top of Seegers Union and utilizes solar hot water heaters for the Life Sports Athletic Center and the Tree House. Muhlenberg has proven its dedication to raising awareness about climate change and sustainable practices through its implementation of specific sciences courses and through its support of student environmental groups, such as EnAct.
These events are sponsored by the Sustainability Studies Program, EnAct (The Student Environmental Action Team) and the Political Science Department.
Founded in 1848, Muhlenberg is a highly selective, private, four-year residential college located in Allentown, Pa., approximately 90 miles west of New York City. With an undergraduate enrollment of approximately 2200 students, Muhlenberg College is dedicated to shaping creative, compassionate, collaborative leaders through rigorous academic programs in the arts, sciences, business, education and public health. A member of the Centennial Conference, Muhlenberg competes in 22 varsity sports. Muhlenberg is affiliated with the Evangelical Lutheran Church in America.