Muhlenberg Students Embark on Annual Alternative Spring Break Trips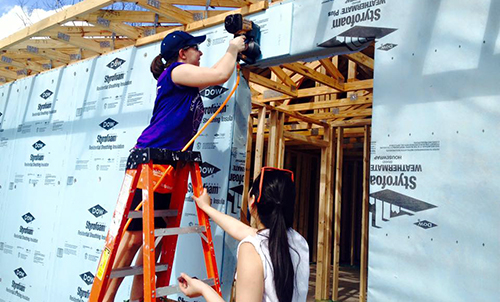 Every spring semester, students participate in organized service-based "alternative" spring break trips consisting of volunteering and teamwork.
By: Melissa Rosenberg '15 Tuesday, March 17, 2015 04:41 PM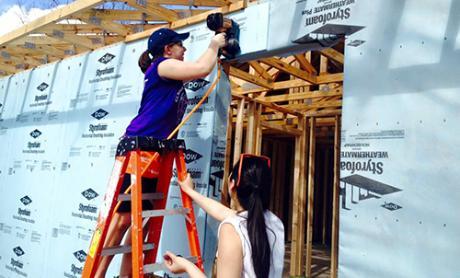 This year, two groups of students set out to two different destinations: New Orleans, La. and Southeast Volusia, Fla. The New Orleans trip teamed up with the St. Bernard Project to help families get back into homes destroyed by Hurricane Katrina; the work remains unfinished over nine years later. Muhlenberg has an extensive collaborative relationship with the St. Bernard Project, and the founders of the program were granted honorary degrees at Muhlenberg's 2012 Commencement ceremonies.
In New Orleans, 12 students helped to install drywall and insulation and to prepare a bathroom for further construction. The trip to Florida included 12 students who worked with Habitat for Humanity to help build homes from scratch for those in need. They assisted in finishing the roofing and exterior walls and began work on interior walls as well.
During the trip, students learned the skills they need to complete the service projects; previous construction experience isn't a requirement to participate in a Muhlenberg Alternative Spring Break.
"It gave us opportunities to learn different things and different skills," said Florida trip student leader, Julia Burns '16. Students were also encouraged to learn more about the culture of the areas they visited.
"I wanted to hear stories, to speak to residents, to explore the town. I wanted to learn about Katrina and how the St. Bernard Project functions to help families return to their homes," said Laura Barbalato '15, one of the leaders for the New Orleans trip.
The students participated in cultural activities in addition to their service.
"We had free time, so that was a great time to explore the local community…we went to a local creek area and kayaked," Burns explained.
While the focus is on service and helping others in need, another draw of an alternative spring break is the camaraderie and friendships created with fellow Muhlenberg students.
"Staying in close quarters, working towards a common goal, eating meals together and laughing and sharing stories created a group dynamic that was full of energy and excitement," said Barbalato.
Each trip left an impression on both the Muhlenberg attendees and the communities they served.
"You feel very productive while you're there. There's something tangible you're making…it's something I'm very proud of, and it's an accomplishment," said Burns of the Florida trip. "The community, the bonds you make with those 11 other people is unique."
Photo provided courtesy of Julia Burns '16 and the Muhlenberg Habitat for Humanity Facebook page.