Neuroscience to become 19th academic department of Muhlenberg College.
The nationally recognized major will mark the transition to a department at the beginning of the 2016-2017 academic year.
Monday, November 23, 2015 07:15 AM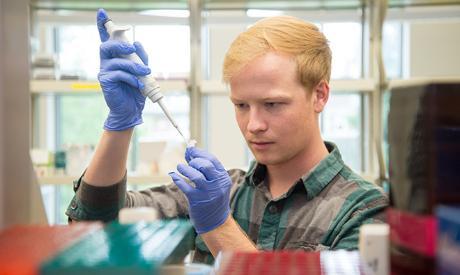 Neuroscience will be the first new academic department since the addition of the Drama Department, now known as Theatre & Dance, in the 1980s.

"As the inaugural chair of the new Department of Neuroscience, Dr. Jeremy Teissere will provide leadership for the evaluation of faculty, advising of students, shaping and quality of the curriculum," said Muhlenberg College President John I. Williams, Jr. "Dr. Teissere will engage in ongoing assessment and benchmarking of Muhlenberg's neuroscience program against the nation's other leading programs."
The evolution of neuroscience from an interdisciplinary program to an academic department propels Muhlenberg to the forefront of undergraduate liberal arts neuroscience programs. Currently, Oberlin College and Pomona College are the only other liberal arts colleges with neuroscience departments.
Neuroscience is among the top nationally recognized and popular majors at Muhlenberg College. In March 2014, the department gained an endowed professorship when Dr. Jeremy Tiessere was selected as the inaugural Stanley Road Endowed Chair, a $1 million grant coupled with a $250,000 matching grant from the Muhlenberg Match fund challenge.
Founded in 1848, Muhlenberg is a highly selective, private, four-year residential college located in Allentown, Pa., approximately 90 miles west of New York City. With an undergraduate enrollment of approximately 2200 students, Muhlenberg College is dedicated to shaping creative, compassionate, collaborative leaders through rigorous academic programs in the arts, sciences, business, education and public health. A member of the Centennial Conference, Muhlenberg competes in 22 varsity sports. Muhlenberg is affiliated with the Evangelical Lutheran Church in America.