Nikki Rhoads '08 returns to Muhlenberg as Director of College Communications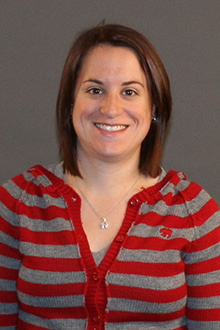 Nikki Rhoads, a 2008 graduate of Muhlenberg College, will return to her alma mater to serve as director of college communications.
Tuesday, June 16, 2015 11:58 AM
Rhoads joins the office of public relations on June 29, bringing with her seven years of communications, public relations and marketing experience in higher education, government and the news media industry.
"I can't articulate how excited I am to return to Muhlenberg as director of college communications," Rhoads said. "I look forward to drawing on my experiences – both as a member of the Muhlenberg community and as a higher education communications professional – to ensure that everyone knows that Muhlenberg is a unique, top-notch College that prepares its students to make a difference in their communities and the world."
A media & communication and political science double major at Muhlenberg, Rhoads started her career in the Washington, D.C. office of Senator Robert P. Casey, Jr. She began as a constituent service-oriented staff assistant, and soon moved to his press office, where she got to know Pennsylvania media very well.
After more than two years in D.C., Rhoads discovered her passion for higher education communications when she was hired as assistant director of communications at Gettysburg College. At Gettysburg, Rhoads managed local and regional media relations, produced content for the website and alumni magazine, promoted Gettysburg's distinctive programs, led commencement and orientation communications efforts and was the lead communications staff member for the sesquicentennial commemoration of the Battle of Gettysburg and Gettysburg Address.
Upon leaving her role at Gettysburg, Rhoads served as communications director at the Pennsylvania NewsMedia Association, where she was responsible for web content, social media, the Headlines & Deadlines weekly newsletter and overall communications strategy.
As director of college communications, Rhoads will be responsible for local and regional media relations, news content, event coverage, Muhlenberg magazine, coordinating with faculty experts and more.
At Muhlenberg, Rhoads was a Dana Scholar, Cardinal Key, four-year starter on the field hockey team, tour guide and admissions student worker. She lives with her fiancé, Brandon Gum.
Founded in 1848, Muhlenberg is a highly selective, private, four-year residential college located in Allentown, Pa., approximately 90 miles west of New York City. With an undergraduate enrollment of approximately 2200 students, Muhlenberg College is dedicated to shaping creative, compassionate, collaborative leaders through rigorous academic programs in the arts, sciences, business, education and public health. A member of the Centennial Conference, Muhlenberg competes in 22 varsity sports. Muhlenberg is affiliated with the Evangelical Lutheran Church in America.