President Emeritus status granted to Randy Helm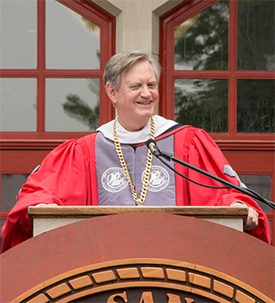 'Berg has advanced in academic and financial strength and reputation under Helm's careful stewardship of the College's resources
Tuesday, May 19, 2015 04:05 PM
The Muhlenberg College Board of Trustees unanimously voted to bestow the honorary title of President Emeritus to Randy Helm, effective upon his retirement on June 30, 2015, in recognition of his outstanding leadership of Muhlenberg College for the past 12 years, guiding the College successfully through challenging times in both higher education and the world at large. This action was announced publicly on Sunday, May 17, during the College's 167th Commencement ceremony.
"The Board of Trustees is grateful to the President for his exemplary and meritorious service to Muhlenberg College, and we hope that you will join us in wishing him well as he begins his retirement in July," said Richard C. Crist, Jr. '77, P'05, P'09, chair of the Board of Trustees.
Muhlenberg College has advanced in academic and financial strength and reputation under Helm's careful stewardship of the College's resources. The physical plant of the College has expanded, with major additions of the New Science Building and the extensive expansion of Seegers Union. The academic program has been expanded and enriched, the endowment has tripled in value, and the College's reputation in the field of higher education has been enhanced through the President's involvement with such flagship organizations as NAICU, CASE, AICUP and CIC.
Founded in 1848, Muhlenberg is a highly selective, private, four-year college located in the Lehigh Valley of eastern Pennsylvania, affiliated with the Evangelical Lutheran Church of America. Muhlenberg offers programs in the liberal arts and sciences, along with selected pre-professional studies and a number of interdisciplinary majors.