Softball Beats TCNJ with 5-Run Seventh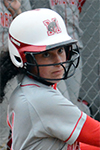 Freshman Haley Fedak pitched a four-hitter for her first career win
Monday, April 20, 2015 10:13 AM
Freshman Haley Fedak pitched a four-hitter for her first career win and drove in the tying and go-ahead runs in the top of the seventh as the Muhlenberg softball team defeated The College of New Jersey, 6-2, in a makeup single game.

The Mules (14-11) lost their first 41 meetings with the Lions before beating them for the first time last year in the first game of a doubleheader. So after going 0-for-24 years, Muhlenberg has now beaten TCNJ in back-to-back seasons.

That makes what Fedak did more uncommon: She is the first Mule to pitch a complete game and drive in the winning run in the seventh inning or later since 2001, when Angie Tyson did it against Ithaca.

Fedak, making just her second career start and her first since March 2, carried a no-hitter into the fifth. The first hit, combined with two errors, produced the first run for the Lions (17-8), and they added three more hits and a run in the sixth to take a 2-1 lead.

Freshman Paige Seitz, whose single in the fifth was responsible for Muhlenberg's first run (and her first career RBI), started the winning rally by drawing a one-out walk. An infield error and a single by junior Amie DeFeo loaded the bases.

Fedak followed with a two-run single to give the Mules a 3-2 lead. One batter later, junior Taylor Trifiolis brought home two more runs with a double. Another run scored on an error to complete the five-run uprising.

Fedak closed out the win by retiring TCNJ without a hit in the bottom of the seventh, recording her fifth strikeout of the game along the way.
For more sports news, please visit Muhlenberg Athletics.