Students showcase new venture ideas in 6th annual Innovation Challenge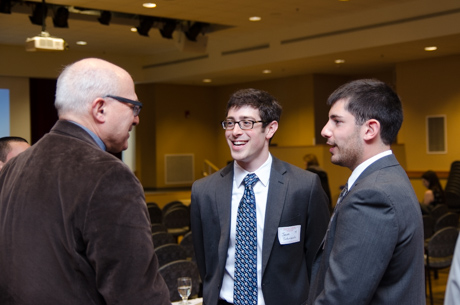 Participants from all majors compete for seed money
Tuesday, April 14, 2015 01:40 PM
The sixth annual Muhlenberg College Innovation Challenge, a co-curricular forum for all Muhlenberg students to showcase new venture ideas, will be held on April 16 from 4:30-7:30 p.m. in Seegers Union Room 113. The challenge will include a poster session, group presentations and an award ceremony.
All current Muhlenberg students – not just business majors – were invited to develop and submit a comprehensive plan for an original, innovative idea that solves a current social or market problem or fills a gap in the marketplace. Any significant social issue or market opportunity can be addressed in this competition. Teams will compete for a chance to win $2,000 "seed money" to help get their ideas off the ground.
Judges for the contest include:
Anthony A. Durante
Program Manager
Bridgeworks Enterprise Center

Matt Sommerfield,
President of MTS Ventures

John Dubbs,
President of Recignition, LLC
Launched in the early 1990s, the entrepreneurial studies program at Muhlenberg was one of the first entrepreneurship programs to be established at a liberal arts college. Today, the program maintains its distinction through its unique combination of academics and practicing entrepreneurs. The program also incorporates local entrepreneurs in the surrounding community, and cultivates opportunities for students to learn from those in the midst of building businesses. These relationships offer an immediate context in which students can apply theory, and gain exposure to the local business community in ways that can further their development beyond the walls of Muhlenberg.
Founded in 1848, Muhlenberg is a highly selective, private, four-year college located in the Lehigh Valley of eastern Pennsylvania, affiliated with the Evangelical Lutheran Church of America. Muhlenberg offers programs in the liberal arts and sciences, along with selected pre-professional studies and a number of interdisciplinary majors.