The Wescoe School of Muhlenberg College wins Telly Award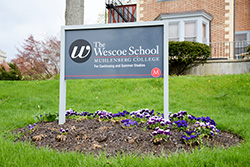 The Wescoe School of Muhlenberg College received a Bronze Telly for the television commercial "#1 for Vets."
Wednesday, June 17, 2015 00:00 PM
Starring Sgt. Nicole Skidmore '15, Sgt. Maj. Leonard Lightner '12 and Sgt. Matt Stahl '14, the commercial spotlights Muhlenberg's distinction as the #1 Liberal Arts College for Veterans in the United States in 2014 according to U.S. News & World Report. Viamedia produced the spot, and Molly Brown, director of marketing & public relations for The Wescoe School, created the concept and copy.
Established in 1979, the Telly Awards is the premier award honoring outstanding local, regional and cable TV commercials and programs; the finest video and film productions; and web commercials, videos and films. Winners represent the best work of the most respected advertising agencies, production companies, television stations, cable operators and corporate video departments in the world. Tellys are awarded in two categories, Silver and Bronze, and the awards are designed by the same firm that makes the Oscars and Emmys.
The mission of The Wescoe School is to transform lives, build community and enhance society through positive, inclusive and innovative approaches to learning. The Wescoe School strives to provide lifelong learners the opportunity to continue and enhance their education, and to do so in ways that recognize their experience, maturity, motivation, life circumstances and capacity for independent scholarship.
Founded in 1848, Muhlenberg is a highly selective, private, four-year residential college located in Allentown, Pa., approximately 90 miles west of New York City. With an undergraduate enrollment of approximately 2200 students, Muhlenberg College is dedicated to shaping creative, compassionate, collaborative leaders through rigorous academic programs in the arts, sciences, business, education and public health. A member of the Centennial Conference, Muhlenberg competes in 22 varsity sports. Muhlenberg is affiliated with the Evangelical Lutheran Church in America.