Women's Basketball Moves Up in Polls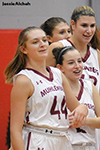 When the Muhlenberg women's basketball team returns to action in 2016, it will do so as one of the top 15 ranked teams in Division III.
Tuesday, December 22, 2015 09:42 AM
The Mules moved up to 14th, their highest ranking of the season, in the D3hoops.com poll through games of December 13. They also advanced to 19th in the WBCA poll.
The ranking is the highest for the Mules at this point in the season since they were 12th this week in 2011. They eventually climbed as high as No. 9 that year.
One of 24 undefeated teams remaining in Division III, Muhlenberg (8-0) has outscored its opponents by an average of 21.9 points per game. The Mules rank 10th in the country in that category and are also in the top 20 out of 420 teams in assists per game (second), assist-to-turnover ratio (ninth), field-goal percentage defense (10th), blocked shots per game (12th), scoring offense (13th) and rebounds per game (17th).
Individually, sophomore Brandi Vallely continues to lead Division III in assists per game and is 15th in steals per game. Sophomore Rachel Plotke is 10th in three-pointers per game, and senior Christina Santone ranks 16th in blocked shots per game.
Muhlenberg is scheduled to resume its season with a home game against Dickinson on Thursday, January 7.
For more about Athletics, please visit muhlenbergsports.com.