Women's Basketball Run Ends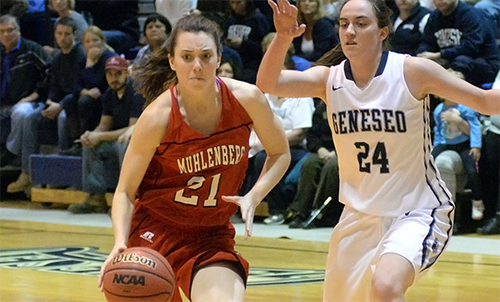 Muhlenberg suffered a 69-54 loss to Geneseo, which advanced to the "Sweet 16" for a matchup with defending national champion FDU-Florham.
By: Muhlenberg Sports Information Monday, March 9, 2015 08:27 AM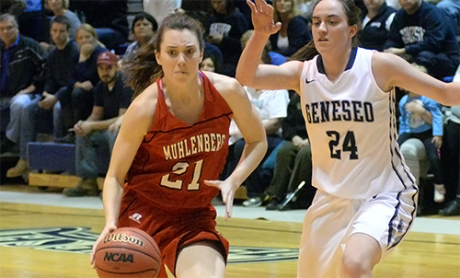 In the final game of her career, Leanna Tallamy led Muhlenberg with 17 points and 14 rebounds for her 20th double-double of the season. She broke the school record for rebounds in a season (322) and finished with 538 points, the second-highest single-season total in program history.

Abby Stenger (pictured above) had a terrific two NCAA games and scored 11 in the last game of her career. Senior Laura Gregory had nine points, five rebounds, two assists, two blocks and three steals, while senior Janelle Fleet contributed six points, three assists and two steals. Hannah Rush (four assists) and Nicole Pepe (three points) also closed out their careers.

The Class of 2015 finished with a four-year record of 77-33 and won two Centennial Conference championships.

This article is an excerpt from "Women's Basketball Run Ends," originally published 03/07/15 on MuhlenbergSports.com.