Women's basketball win Centennial Conference championship to advance to NCAA Tournament
The Mules captured their eighth CC title with wins over Johns Hopkins and McDaniel over the weekend.
By: Muhlenberg College Sports Information Monday, March 2, 2015 04:38 PM
Muhlenberg College women's basketball won its eighth Centennial Conference championship on February 28 with a 68-64 victory over McDaniel, earning an automatic bid to the NCAA Tournament.
"It's really indescribable. I don't want to say I can't believe it, because I have all the confidence in my teammates," said senior Nicole Pepe after participating in a postgame net-cutting ceremony and posing for picture after picture after picture with the trophy and those teammates.
"All I can say is that it's awesome," said senior Leanna Tallamy, who was named the tournament's Most Outstanding Player after recording 20 points and nine rebounds in the title game. ""I've wanted this ever since I transferred here. I wanted to win a championship."
She got her wish after an insanely intense game that, with the exception of a three-minute stretch to end the first half and start the second, was played within a five-point window throughout and featured 17 lead changes. The Mules (20-7) did not lead by more than four points until the final 10 seconds.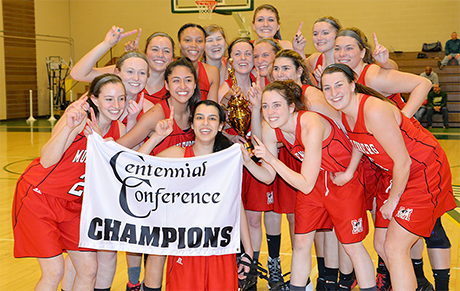 The Centennial Conference-champion Mules (20-7) will travel to Geneseo State to face Cabrini in a first-round game on Friday, March 6 at a time to be determined. Geneseo will host Castleton in the other first-round game, with the winners meeting Saturday night for the right to advance to the "Sweet 16."
Although it's the opposite direction from where most Muhlenberg students go over Spring Break, traveling north has suited the women's basketball team just fine. Both of the Mules' "Sweet 16" appearances came when they were sent north: in 2009 to Bowdoin and in 2011 to Rochester.
Muhlenberg enters the NCAA Tournament on a roll, having won 17 of its last 19 following a 3-5 start. The Mules rank fifth in Division III in field-goal percentage defense, holding opponents to 31.1-percent shooting. They are 7-8 all-time in the NCAA Tournament.
This article is an excerpt from Women's Basketball Headed to New York and Women's Basketball - CC CHAMPIONS! To read more about 'Berg athletics, visit MuhlenbergSports.com.