Center for Ethics announces spring theme and programming
The Muhlenberg College Center for Ethics' spring theme, "Influence & Information: Manipulation Nation" will focus on topics related to manipulation and manipulative practices.
Monday, January 18, 2016 03:11 PM
The Center for Ethics will host related programming, including lectures and a documentary screening, from January through March. All events are free and open to the public.
The first spring event, a talk by Michael Cholbi, professor of philosophy at California State Polytechnic University, will take place Jan. 26 at 6:45 p.m. in Moyer Hall's Miller Forum. Cholbi's lecture, "Libertarian Paternalism: Manipulation without Coercion?" will examine how libertarian paternalism promotes individuals' well-being while still respecting their autonomy or rational agency, and whether it is a form of morally suspect manipulation.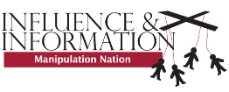 Robert Epstein lecture, "The New Mind Control"
Feb. 3, Seegers Union Event Space, 6:45 p.m.
Epstein will explore how high-technology (the Internet, in particular) is making possible new forms of mind control which are more powerful, subtle and widespread than any dystopian science fiction writer ever imagined.
Documentary screening, "Merchants of Doubt"
Feb. 10, Moyer Hall's Miller Forum, 6:45 p.m.
Inspired by the book by Naomi Oreskes and Erik M. Conway, this documentary examines the history of corporate-financed public relations efforts to sow confusion and skepticism about scientific research.
Wendell Potter lecture
Feb. 17, Moyer Hall's Miller Forum, 6:45 p.m.
Potter is the former head of corporate communications for Cigna. Since leaving this job he has become a vocal critic of the health care industry and its public relations tactics. He is a senior analyst at The Center for Public Integrity.
Paul Offit lecture, "The Strange Case of Vaccine Exemptions"
March 2, Moyer Hall's Miller Forum, 6:45 p.m.
Offit is the Director of the Vaccine Education Center at the Children's Hospital of Philadelphia (CHOP) and Professor of Vaccinology and Pediatrics at Penn. He has written books on the anti-vaccination movement, autism, alternative medicine and religion and science.
Victor Pickard lecture, "Media Democracy in an Age of Corporate Libertarianism"
March 16, Moyer Hall's Miller Forum, 6:45 p.m.
Pickard will examine the ways the commercialized American media system is unique, and how keeping the current power arrangement intact means that the rights of media corporations are privileged over those of everyone else.
Through thematic lectures and events, the Center for Ethics serves the teaching and study of the liberal arts at Muhlenberg College by providing opportunities for intensive conversation and thinking about the ethical dimensions of contemporary philosophical, political, economic, social, cultural, and scientific issues. In service to its mission, the Center for Ethics hosts special events and programs, provides faculty development opportunities, and provides support for student programming. The Center and thematic programs are directed by full-time faculty members.
Chris Sistare, professor of philosophy and co-director of philosophy and political thought, serves as director; Tad Robinson, associate professor of philosophy, is this year's program director.
During the fall 2015 semester, the Center for Ethics presented programming on "Influence & Information: Whose Safety? Whose Security?" The spring theme connects to the fall programming in significant ways.
Founded in 1848, Muhlenberg is a highly selective, private, four-year residential college located in Allentown, Pa., approximately 90 miles west of New York City. With an undergraduate enrollment of approximately 2200 students, Muhlenberg College is dedicated to shaping creative, compassionate, collaborative leaders through rigorous academic programs in the arts, sciences, business, education and public health. A member of the Centennial Conference, Muhlenberg competes in 22 varsity sports. Muhlenberg is affiliated with the Evangelical Lutheran Church in America.