Broadcast journalist Judy Woodruff to deliver address at Muhlenberg College's 2017 Commencement
Muhlenberg's 169th Commencement Ceremony will be held on campus at 10:00 a.m. on May 21, 2017. The ceremony will take place on the College's front lawn, with the iconic Haas College Center and its signature bell tower serving as a backdrop.
Thursday, April 13, 2017 01:00 PM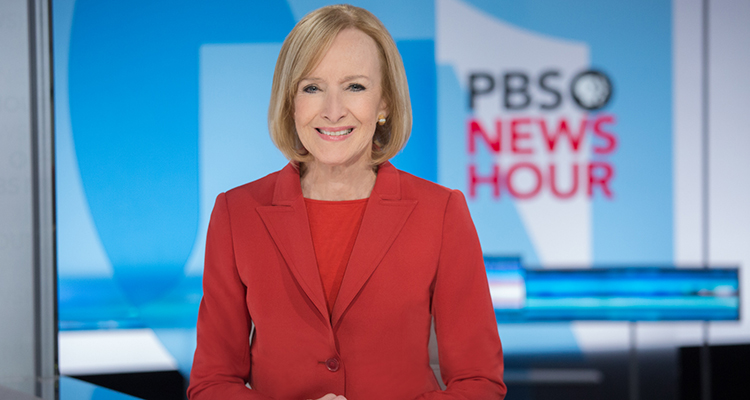 Judy Woodruff, an Oklahoma native who has worked for CNN, NBC and PBS, and who has spent her career breaking down barriers facing women in broadcast journalism, will deliver the Commencement Address to the Muhlenberg College Class of 2017 on Sunday, May 21.
In addition to Woodruff, honorary degrees will be presented to three individuals who are accomplished in their fields of endeavor, including Nobel prize-winning physicist, John C. Mather; Jawole Willa Jo Zollar, founder and visioning partner of Urban Bush Women dance company; and Muhlenberg alumnus Leonard Zon '79, founder & director of the Stem Cell Program at Children's Hospital Boston and the Grousbeck Professor of Pediatric Medicine at Harvard Medical School.
The Honorees
Ms. Judy Woodruff
Judy Woodruff is anchor and managing editor of PBS NewsHour. Her career spans more than three decades of political and news coverage at CNN, NBC and PBS.
Her assignments have included senior correspondent and "Inside Politics" anchor for CNN; chief Washington correspondent, senior correspondent, anchor of the award-winning documentary series "Frontline with Judy Woodruff," principal reporter for "Nancy Reagan: The Role of a Lifetime" and co-anchor of "PBS NewsHour" for PBS; White House correspondent for NBC; and anchor of a monthly program for Bloomberg Television, "Conversations with Judy Woodruff."
Woodruff is a founding co-chair of the International Women's Media Foundation, an organization dedicated to promoting and encouraging women in communication industries worldwide.
Woodruff has been honored as the recipient of the Cine Lifetime Achievement award, the Edward R. Murrow Lifetime Achievement Award in Broadcast Journalism/Television and the University of Southern California Walter Cronkite Award for Excellence in Journalism.
At the Sunday Commencement, Woodruff will receive her doctoral hood and diploma; her citation will be written, and she will be hooded by Susan G. Kahlenberg '93, associate professor of media & communication.
Dr. John C. Mather
John C. Mather is a senior astrophysicist at NASA's Goddard Space Flight Center in Greenbelt, Maryland, where he specializes in infrared astronomy and cosmology.
As one of the principal investigators of the Cosmic Background Explorer (COBE) satellite, Mather and his team discovered hot and cold spots in cosmic radiation, believed to be the seeds that drove the structure of the universe.
In 2006, Mather and fellow researcher George F. Smoot were awarded the Nobel Prize in physics for their discovery of the blackbody form and directional dependency of the cosmic microwave background radiation, which confirmed the Big Bang theory with incredible accuracy.
Mather currently serves as the senior project scientist for NASA's James Webb Space Telescope, the successor to the great Hubble Space Telescope.
Mather's citation will be written, and he will be hooded by Brett Fadem, associate professor and department chair of physics.
Ms. Jawole Willa Jo Zollar
Jawole Willa Jo Zollar is the founder of Urban Bush Women (UBW), a performance ensemble dedicated to exploring the use of cultural expression as a catalyst for social change, and the Nancy Smith Fichter Professor of Dance and Robert O. Lawton Distinguished Professor at Florida State University.
In addition to the more than 30 works created for Urban Bush Women, Zollar has created works for Alvin Ailey American Dance Theater, Philadanco, University of Maryland and Virginia Commonwealth University.
As artistic director, Zollar has led UBW on tours of five continents and performances at the Brooklyn Academy of Music, Lincoln Center for the Performing Arts and The Kennedy Center. In 2010, UBW was honored as one of three U.S. dance companies to inaugurate a cultural diplomacy program for the U.S. Department of State.
Zollar's honors include a New York Dance and Performance Award (Bessie) for her work as choreographer/creator of "Walking With Pearl…Southern Diaries;" a Master of Choreography designation from the John F. Kennedy Performing Arts Center; and the Martin Luther King Distinguished Service Award from Florida State University and the Robert O. Lawton Distinguished Professor, FSU's highest faculty honor.
Zollar's citation will be written, and she will be hooded by, Karen Dearborn, professor and head of dance.
Dr. Leonard Zon '79
Leonard Zon is the founder & director of the Stem Cell Program at Children's Hospital Boston and the Grousbeck Professor of Pediatrics Chair at Harvard Medical School.
As both a renowned pediatrician and researcher specializing in blood diseases, Zon serves as a Howard Hughes Medical Institute Investigator, an American Association for the Advancement of Science Fellow, the founder and past President of the International Society for Stem Cell Research, and Chair of the Harvard Stem Cell Institute's Executive Committee.
A practicing pediatrician, Zon recognized the potential of embryonic stem cells as a source of hope for pediatric disease and illness. He is internationally recognized as a groundbreaking researcher in the fields of stem cell biology and cancer genetics, and he is considered a pioneer in recognizing abnormalities of the blood system caused by HIV.
Zon is an elected member of the Institute of Medicine of the National Academies, one of the highest honors in the fields of medicine and health.
His current research focuses on the identification of the specific genes of specialized blood or organ cells and the development of genetic or chemical suppressors to cure cancers and other pediatric diseases.
Zon's citation will be written, and he will be hooded by, Bruce Wightman, professor and department chair of biology.


Founded in 1848, Muhlenberg is a highly selective, private, four-year residential, liberal arts college located in Allentown, Pa., approximately 90 miles west of New York City. With an undergraduate enrollment of approximately 2200 students, Muhlenberg College is dedicated to shaping creative, compassionate, collaborative leaders through rigorous academic programs in the arts, humanities, natural sciences and social sciences as well as selected pre-professional programs, including accounting, business, education and public health. A member of the Centennial Conference, Muhlenberg competes in 22 varsity sports. Muhlenberg is affiliated with the Evangelical Lutheran Church in America.