First-Year Seminar: No Song Left Behind
This writing-intensive course for entering students looks at songs in their social context.
By: Meghan Kita Tuesday, November 28, 2017 10:00 AM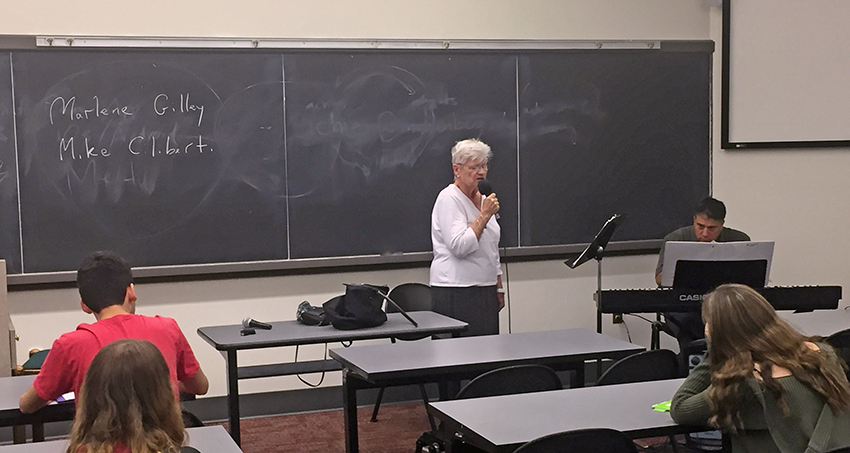 Guest musicians Marlene Gilley and Mike Ciliberti perform selections from the Great American Songbook during the first-year seminar No Song Left Behind. Photo by Meghan Kita.
This fall, staffers from the Office of Communications sat in on a number of first-year seminars to observe how Muhlenberg introduces its new students to college-level writing. Professors from a variety of disciplines design and teach the courses. Some select a topic that's closely related to their academic specialty, while others choose something they're personally passionate about. While the seminars vary widely in subject matter and structure, they all share the same end goal: to teach students to think critically and analytically when constructing an argument.
"The difference between high-school and college writing is less a matter of style than of attitude," says English professor Jill Stephen, who co-directs the Writing Program with fellow English professor David Rosenwasser. "Rather than framing a single argumentative claim and repeatedly demonstrating that it is 'right,' students in first-year seminars learn to treat ideas as hypotheses to be tested."
The seminars are small—limited to 15 students each—and each one has a paid writing assistant, a returning student who has completed a credit writing theory course, attends all the classes and works with first-year students inside and outside the classroom to develop their writing skills. Thirty-three seminars are offered in the fall, with another eight offered in the spring. Here's a glimpse at one of the seminars taking place this semester.
Encouraged by peer pressure, Owen Yingling '21 strides to the front of the room and takes the mic. Keyboardist Mike Ciliberti starts in with the opening chords of "Fly Me to the Moon," and Owen, who has the lyrics pulled up on his phone, sings along. "In other words: please, be true. In other words, in other words: I love you," he finishes, and the crowd erupts in whooping and applause.
It's a Thursday afternoon in a classroom but it feels more like a Friday night at a jazz club, thanks to the guest appearances of Ciliberti and vocalist Marlene Gilley. The duo are performing pieces from the Great American Songbook for the first-year seminar No Song Left Behind, which covers a variety of 20th-century music genres. "I envisioned it as looking at songs in their social context, in helping to understand the era as well, and as an introduction to how many different scholarly disciplines can be used to consider a body of artistic work like songs," says Roland Kushner, associate professor of business who previously worked as a festival manager, concert promoter and booking agent. "It's a good fit for Muhlenberg because of how many of our students come in with an interest in music and theatre."
He recalls a recent assignment in which students had to explain, in writing and via a presentation, why a song of their choosing is important to them. Bob Marley's "Redemption Song," Johnny Cash's "Ring of Fire," and Billy Joel's "Piano Man" were among those chosen. "These are 18-year-olds and they know these songs," Kushner says, "which is to me, a delight."