Jouman Barakat '20 embraces possibility in her first-year Muhlenberg experience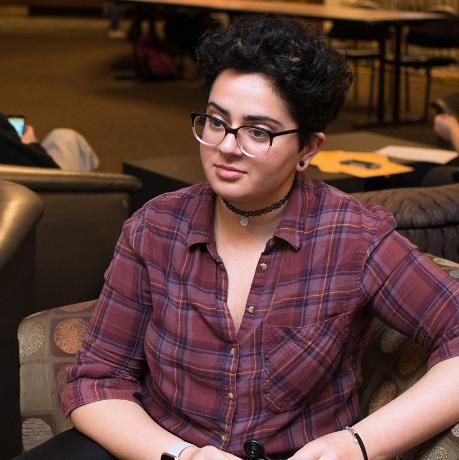 Jouman is not the type of person to idly sit by and wait for opportunities to come to her.
By: Emily McGoldrick '17 Friday, May 5, 2017 06:37 AM
When she wanted to learn how to play the drums, she taught herself. When a spot unexpectedly opened up for Muhlenberg's Student Government Association (SGA) this semester, she ran for it and won. And when she was frustrated by what she saw as a lack of response on campus following President Trump's executive order suspending travel from seven Muslim-majority countries, she decided to do something about it.
As a student with dual citizenship who calls Jordan—a country not directly identified in the order—home, Jouman recalls thinking, "even if I'm not affected by it, why is nobody caring? Nobody knows what to do, but somebody has to something."
Her strong reaction to the ban signaled that perhaps she wasn't the only student outside of those directly impacted who felt obligated to act. The weekend following the announcement of the executive order, she came up with the plan to organize a march showing solidarity with Muslim students on Muhlenberg's campus.
She started by reaching out to a couple of trusted Muhlenberg staff members whom she notes often encourage students to contact them whenever they need help. Together they organized a group with five other students to discuss their ideas before they met with campus safety, advertised the march and put Jouman's plan into action.
The march began in Parents Plaza with about 40 people but quickly grew as students joined the crowd weaving its way past academic buildings and residence halls. The echoes of the chant "no hate, no fear, Muslim students are welcome here" boomed across campus before a line of nearly 200 students filed into Egner Memorial Chapel.
As she waited for everyone to come inside and find their seats, Jouman remembers, "I was preparing my stuff and getting my paper out for like five minutes...I got on stage and they're still coming in."
Though overwhelmed by the turnout, Jouman spoke with the same ease in front of a crowd of peers and faculty members as she does in a one-on-one conversation, recounting when she broke down in tears in Seegers Union after reading news of the executive order and sharing how a Jordanian friend's recent plans to attend college in Washington, D.C. may now be in jeopardy. After conveying her personal reaction to the executive order, she parted with an urgent plea for her audience to continue speaking out against policies that they oppose and to vocalize the concerns of Muhlenberg community members who may be unable to do so themselves.
When it comes to Jouman's passions, like fostering acceptance on campus, her rule of thumb is, "if I'm interested in it, I wanna learn more about it." For Jouman, this often involves being a creator and performer, whether she is beatboxing, playing the drums and piano, writing music, acting, improvisation, DJing at campus events or preparing to perform in the 2017 Sedehi Diversity Project.
With another three years left at Muhlenberg, Jouman also has plenty of ideas for bringing its community together, one being a dining hall staff appreciation day. Working with SGA, she hopes to create an annual event that celebrates the hard work of Muhlenberg's dining staff while also uniting a wide range of students who have built close connections with them through their daily interactions.
This commitment to recognizing diversity and bridging differences plays a significant role in her pursuit of learning new languages, which she considers to be the most thorough and efficient way to understand other cultures.
She explains, "when I was a kid, my mom would speak to me in English and my dad would speak to me in Arabic, so I grew up speaking both. So I just grew up speaking two languages and then learned the third, French, in grade one and going up."
Jouman plans to expand her working knowledge of French and take up Spanish through language courses at Muhlenberg. She says, "my grandmother's Guatemalan... and all of my aunts speak Spanish."
As Jouman ruminates on a possible academic path, she finds herself increasingly interested in media & communication as a stepping-stone to one of her long-term goals, performing in short-form videos at Buzzfeed Motion Pictures. Still, she plans on keeping her options open, ranging from becoming a successful actress in Hollywood to enrolling in culinary school to learn how to improve her cooking skills as she jokes, "I might burn the entire building down if you hand me a pan and ask me to cook eggs."
Looking back on the first year of her college journey, Jouman says that international students should prepare themselves for the amount of independence expected of them in the United States, which took her by surprise during her first semester at Muhlenberg. However, between her campus involvement and naturally welcoming disposition, it seems that she has adjusted well to this transition and formed her own supportive community of peers and mentors.
Beyond her ability to make connections with others, the variety of Jouman Barakat's plans for the future and her initiative in taking on new challenges are proof that she refuses to limit herself, a quality that will serve her well as she explores possibilities at Muhlenberg.