Muhlenberg College receives National Science Foundation grant for collaborative chemistry research
The award will allow participating Muhlenberg students to expand their understanding of chemistry-associated disciplines through research and faculty mentorships.
By: Iulia Tibrea '18 Saturday, September 30, 2017 08:30 AM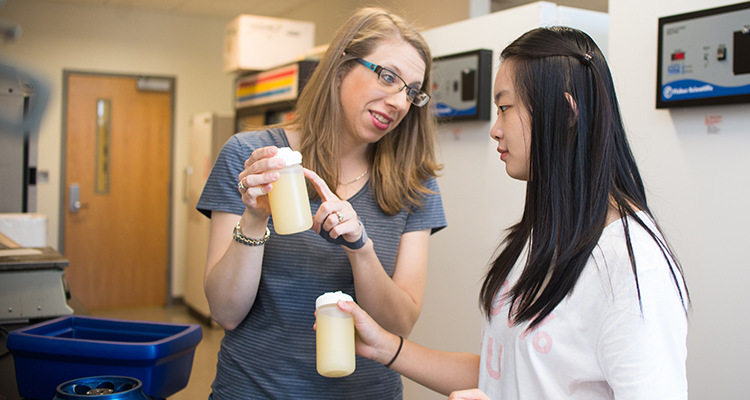 Keri Colabroy, associate professor of chemistry, discusses research findings with Muhlenberg student Yizhi Fu '19. Photo by Rebecca Rohn.
Muhlenberg College has been awarded a highly competitive grant by the National Science Foundation (NSF) through the Research in Undergraduate Institutions (RUI) program. The grant will allow faculty and students to conduct innovative research of extradiol dioxygenase enzymes, essential protein catalysts that could unveil ways to make new natural products and degrade plant material into biofuels.
The project, Kinetic Study and Mechanism of L-DOPA dioxygenase, a New Type of VOC dioxygenase, received a total of $294,000 to be delivered over three years. The award will fund a collaborative study led by Keri Colabroy, assistant professor of chemistry at Muhlenberg College, as principal investigator, and Larryn Peterson, assistant professor of chemistry at Rhodes College in Memphis, Tenn, as co-principal investigator. The research will focus on the reaction through which extradiol dioxygenase enzymes catalyze the cleavage of catecholic rings, molecules found in the woody tissue of plants that provide structure and strength.
The grant will allow students participating in the project to enrich their educational experiences through exposure to valuable faculty mentorships and the knowledge that comes from first-hand involvement in research.
"This award will involve 16 students over three summers experiencing the project from different angles. In addition, integrating the project into our courses—Experimental Biochemistry here at Muhlenberg and an advanced Organic Chemistry at Rhodes—will involve up to 30 more students in the funded research," said Colabroy.
"This is all about giving more students opportunities to be involved in high-impact science and the powerful learning outcomes that follow faculty-student mentored research. Students will have access to cutting-edge instrumentation while participating in a collaboration across the two institutions. They will see how the subdisciplines of chemistry work together to tackle a large, complex problem," Colabroy added.
The mission of Muhlenberg College's chemistry department is to support a community of faculty, staff and students who share the common goal of developing (or becoming) the next generation of chemists who will help tackle the scientific challenges ahead, including energy, clean water, new materials and nanotechnology.
The NSF is an independent U.S. government agency responsible for promoting science and engineering through research programs and education projects.
About Muhlenberg College
Founded in 1848, Muhlenberg is a highly selective, private liberal arts college offering baccalaureate and graduate programs. With an enrollment of nearly 2,000 students, Muhlenberg College is dedicated to shaping creative, compassionate, collaborative leaders through rigorous academic programs in the arts, humanities, natural sciences and social sciences; selected preprofessional programs, including accounting, business, education and public health; and progressive workforce-focused post-baccalaureate certificates and master's degrees. Located in Allentown, Pennsylvania, approximately 90 miles west of New York City, Muhlenberg is a member of the Centennial Conference, competing in 23 varsity sports. Muhlenberg is affiliated with the Evangelical Lutheran Church in America.